---
– 8 eco-friendly F&B brands participated in the campaign
– Plans of global expansion…Chicago, Singapore, and the Philippines
---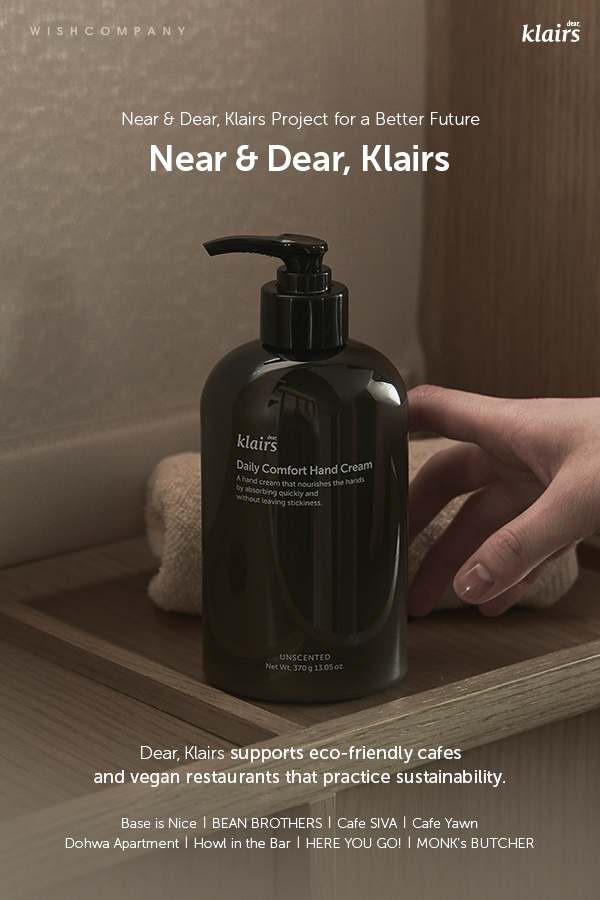 Beauty Brand, content, and commerce company Wish Company (CEO Ryan Sungho Park) announced that it has successfully ended the "Near & Dear Klairs" campaign.
The purpose of the Near & Dear, Klairs campaign was to partner with F&B brands in Korea that value corporate social responsibility, sustainability, and eco-friendly lifestyles.
There were a total of 8 companies and 25 stores that joined the campaign. Some of these brands were an eco-friendly coffee delivery brand, Hero You Go, and a vegan-friendly restaurant, Base is Nice. Klairs provided the brands with sample kits to give to their customers that visited the brands' store locations. The kits contained 7 types of Klairs sample size products.
"Through this campaign, we seem to have formed a consensus with consumers on the importance of a sustainable future," stated Kim Hye-min, Head of Domestic Marketing at Klairs. "We are currently communicating with global eco-friendly F&B companies to expand the Near & Dear Klairs campaign overseas."
Meanwhile, Klairs is a cruelty-free and vegan-friendly brand that does not conduct animal testing and avoids the use of animal ingredients in its products. From 2010, it has steadily carried out donation projects for animal rights and environmental organizations.
Klairs products can be found on their official website, in their flagship store, Olive Young, and Chicor stores nationwide. Products can also be purchased online at SSG.com and W Concept.
###
■ PR Contact: Wish Company (Communication Lab)
– Jenny Shin(010-9954-9315, E-mail: Jenny@wishcompany.net)