– Starting on April 22, a recycling campaign will begin to celebrate Earth Day and promote sustainability
– 1 empty bottle can be exchanged for a Klairs miniature product…All empty bottles collected will be upcycled.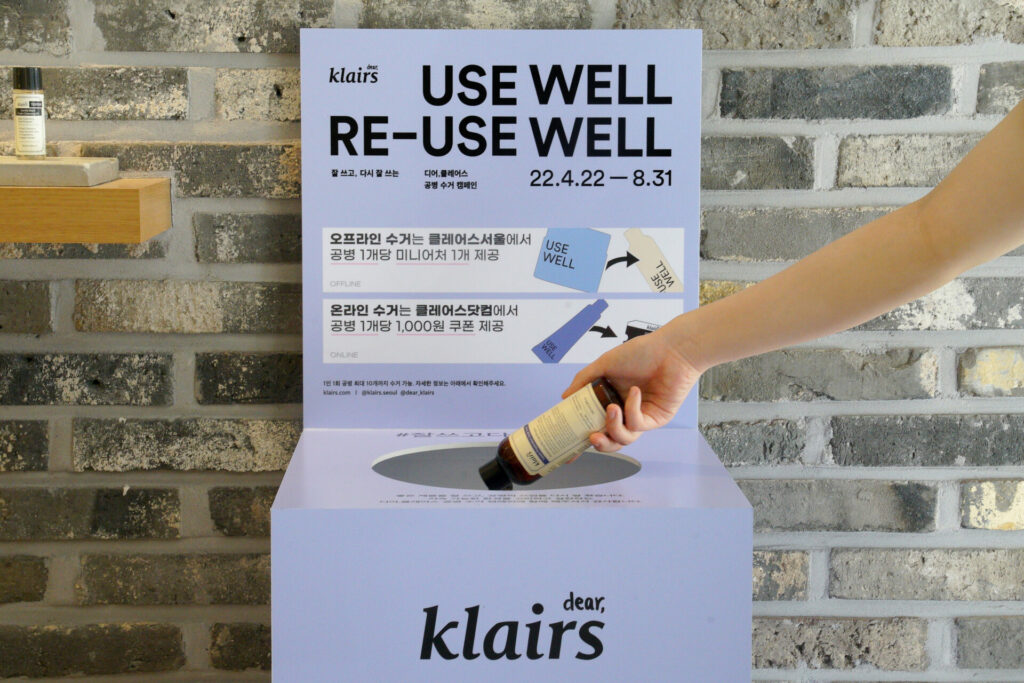 The "Use Well, Re-use Well" campaign is a customer-participating campaign that aims to upcycle old cosmetics containers into new materials and products. The goal of this campaign is to encourage recycling and also convey the message that small and sustainable practices within our daily lives can contribute to a virtuous cycle of sustainable resources.

To participate in this campaign, people must wash their empty cosmetics bottles clean and put them in the skincare empties box installed at the Klairs flagship store "Klairs Seoul." Any beauty and cosmetic products (even from other brands) can be recycled in this campaign as long as it is made of plastic and PET materials. In doing so, customers will receive one Klairs miniature product per empty bottle.
All empty materials and products received will be upcycled into new merchandise after being shipped to the smart waste resource management company "Reco." All proceeds from the upcycled merchandise will be donated to resource circulation facilities.
"The "Use Well and Re-use Well" campaign is Klairs' first offline activity for practicing sustainability," said Klairs manager Lim So-hee. "I hope this campaign will serve as an opportunity for both companies and individuals to think more about sustainable processes."
Meanwhile, Klairs is a brand that launched in Seoul in 2010 and is steadily conducting donation projects for animal rights and environmental organizations. For the sustainability of the world the brand is facing, various activities are consistently being carried out, such as using packaging made with FSC-certified paper and soy ink, and introducing 100% recycled shipping boxes that do not require separate recycling.
You can also participate in the Klairs' 2022 skincare empties campaign through the Klairs official Korean online mall. Details of the campaign can be found on the Klairs official online mall klairs.com, and on Klairs Seoul's Instagram.
###
■ Inquiries: Wishcompany(Communication Lab)
– Leader Hyunji Shin(C/P: 010-9954-9315, E-mail: jenny@wishcompany.net)