– National Brand, Klairs, is Established as 'Global Steady Seller' Without Launching into China's Market or Home Shopping Channels
– Pursuit of 'Sustainability' Added Changes in Product Packages…Using 'Recycled Paper, Soy Ink, Geami'
– Opened National Market of Toners with Products for Sensitive Skin-types and Marked as 'Basis of K-Beauty Items' in Overseas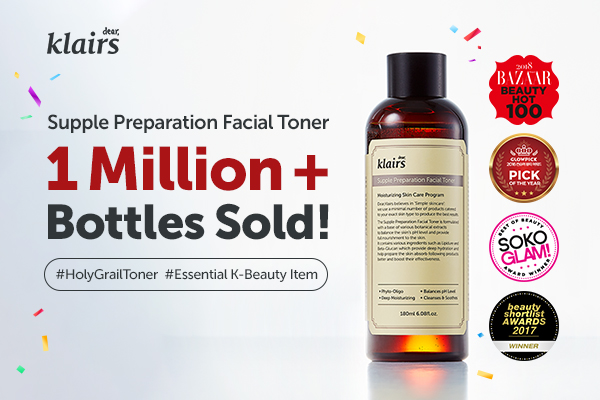 Supple Preparation Facial Toner by skincare brand 'Klairs(dear,Klairs)' of beauty brands and content developing company, Wishcompany (CEO Soungho Park) achieved its accumulated sales volume over one million bottles. It is meaningful as this national brand created a steady-seller leading repurchase from customers, without launching into China's market and home shopping channels.
Initially released in 2012, Supple Preparation Facial Toner now became the iconic toner of the national market. Being released when the item 'toner' was rare, it received a popular reaction from consumers with sensitive skin-types and found the opportunity to open the current facial toner market.
Supple Preparation Facial Toner is a good example of a product solely recognized of their quality, without any advertisement. While most of the skincare products contained high alcohol content, contained high alcohol in the ingredient list thus evaporated soon, thus evaporated soon, built barriers on the skin and stimulated it, Supple Preparation Facial Toner was developed for sensitive skin-type, with mild and moisturizing texture, so it does not stimulate the skin. The toner earned the nickname of 'Holy Grail Toner' by its consumers and got on the best-seller list with their reviews.
Numerous positive reviews were reported on apps as Glowpick and Hwahae. It soon became the item with the highest repurchase rate in corporate sales website, Klairs.com. Marked as an item that anyone who is interested in K-beauty might have used at least once, the toner continues its popularity until recently.
As a steady seller, it holds a high sales record in diverse and popular stores inside and outside the country. It has won several places as a winner in domestic markets as CHICOR, Naver Shopping, Glowpick, and Hwahae. Its sales also ranked high on overseas markets like Amazon and Soko Glam. Supple Toner is currently sold in over 200 stores and 40 countries such as United States, Europe, Southeast Asia and more.
Klairs is a 'Cruelty-Free' and 'Vegan·Eco Friendly' brand that is safe from animal testing. Klairs considers and deploys activities that fit its identity. Getting further steps from donation projects, Klairs is bringing changes to its product packages. It is using recycled paper and soy ink for the package of Supple Toner and started using eco-friendly buffer paper Geami as packing materials for delivery.
CEO of Wishcompany, Soungho Park said: "It is rare that a skincare product has been sold over one million bottles, and it is meaningful that we achieved this without launching into China's market and home shopping channels." He continued that "Klairs will always have the motto of 'Sustainability' and advance in the right way even though it takes time, and put the effort in researching and developing essential products for consumers all over the world for our growth."
ㅡ
PR Contact: pr@wishcompany.net
ㅡ
Related News
[장업신문] 클레어스 서플 토너 누적 판매량 100만 병
[프라임경제] 클레어스 '서플 토너' 누적 판매량 100만병 돌파
[컨슈머와이드] 클레어스, '서플 토너' 누적판매량 100만병 돌파
[보건뉴스] 클레어스 '서플 프레퍼레이션 페이셜 토너' 누적 판매량 100만병 돌파
[로이슈] '클레어스 서플 프레퍼레이션 페이셜 토너', 누적 판매량 100만 병 돌파
[인사이트] 민감성 '클레어스 서플 프레퍼레이션 페이셜 토너', 누적 판매량 100만 병 돌파