Sugar, spice, and everything nice — all things have three main principles that make up its core. For Korean cosmetic brand Klairs, it is being cruelty-free, using only the best ingredients, and providing fair prices for their customers.
Klairs upholds themselves to the highest quality and prides themselves in being an eco-friendly brand that cares not only for the skin but also for the environment.
Korea Animal Rights Advocates formally declares Klairs "animal-friendly"
As part of their regular evaluation of various Korean lifestyle brands, animal rights organization, Korea Animal Rights Advocates, released a list of brands that are verified as animal-friendly. KARA sorted the brands based on three factors: cruelty-free, vegan, does not export to China.
Klairs was included on their recently updated list as a cruelty-free brand that does not export their products to China, which makes animal-testing of all cosmetic products mandatory.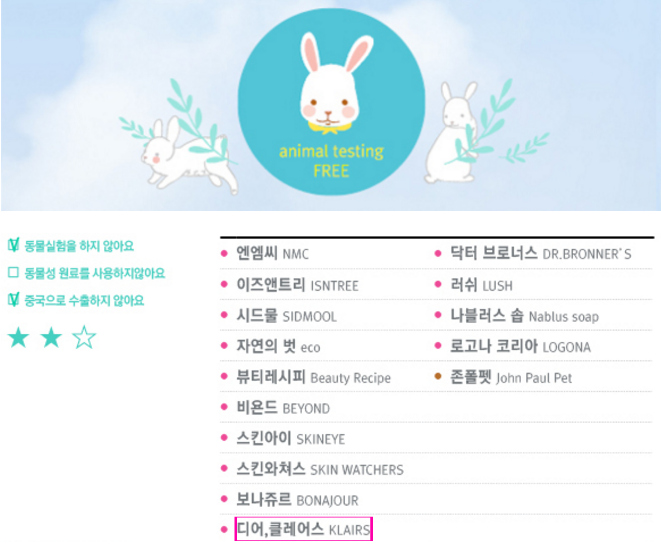 Because some products contain beeswax and honey, Klairs is yet to be a vegan brand. However, constant research is looking for ways to replace animal-based ingredients with alternative components.
Who is Korea Animal Rights Advocates?
In a country that had little to no animal rights laws, KARA formed in April 2002 under the name "Areum-poom". The organization ran on the passion and commitment of their 5,000 volunteers. They worked to give a voice to animals and bring life to campaigns and projects aimed at reforming animal rights laws in Korea.
Despite struggles they faced, "Areum-poom" finally registered as a non-governmental organization "KARA" in 2006. Through their continued work and widespread support, KARA later registered as a corporation. Similar to The Humane Society of the United States, they are now the most recognized and influential animal-rights activist group in Korea.
Klairs had the opportunity to collaborate with KARA during the first annual companion animal charity market, HUG, held March 2016.
The strength of plant-based ingredients in Klairs cosmetic products
Klairs has already taken some important steps in changing the formula of their products for the better. All products are alcohol-free, paraben-free and free of artificial coloring. Many of their products are also plant-based and rely on natural, active ingredients to treat the skin.
https://www.youtube.com/watch?v=6bJPeXU4Ov0
To turn away from artificial scents, Klairs made a big change in 2015. Klairs now uses 6 natural essential oils — Lavender, Eucalyptus, Scented Geranium, Lemon Peel, Orange Peel, and Ylang Ylang Flower.
The amount of essential oil included is very minimal, the total amount adding up to a minuscule 0.1% (about 1.8ml). Guidelines cut off the amount allowed at 0.5% in products for sensitive skin at 0.5%, however Klairs contain 0.1%, 1/5 the amount.
A trustworthy cosmetic brand for animal enthusiasts
Klairs recognizes the importance of being not only animal-friendly but also eco-friendly. They formulate all products from natural ingredients and work to create high-quality products without the high-end price tag.
To learn more about Klairs', visit their Korean homepage or Wishtrend, the official e-commerce website of Wishcompany, who produces Klairs.