– Soft Airy UV Essence, #1 on Accumulated Sales, Becoming the Winner of '29 Beauty Awards 2020' in Green Beauty on 29CM
– 'Toner Artisans' Klairs, Displaying 10 Popular Products Including the Million-Seller Supple Preparation Facial Toner and New Toners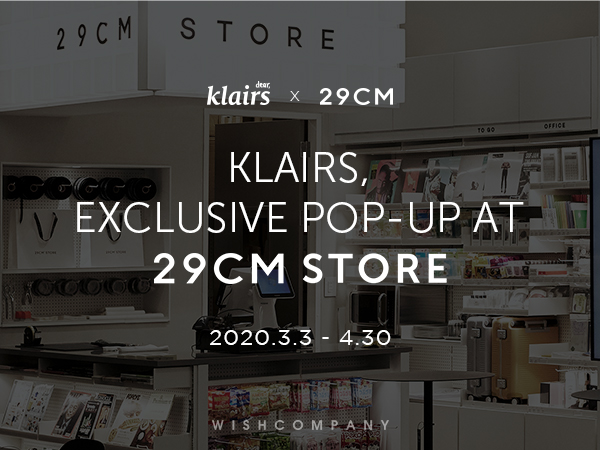 Klairs, a sensitive skincare brand from skincare brand·contents·commerce development corporation Wishcompany (CEO Soungho Park, wishcompany.net) announced on the 5th that they will open a pop-up store at 29CM Store, located near Gangnam station exit 10, until the 30th of next month.
Klairs will display 10 popular products including the 'Soft Airy UV Essence,' which won the Green Beauty category of '29 Beauty Awards 2020' with #1 accumulated sales, and other best-selling and new products. '29 Beauty Awards 2020' is a list of 25 best items selected based on the sales data of last year from the online concept store 29CM, and Soft Airy UV Essence is the only sunscreen to become the winner.
Soft Airy UV Essence became popular immediately after its launch, both domestically and internationally. It was ranked #1 on Glow Pick's list of sunscreens, and received countless praises from domestic/international distribution channels, beauty magazines, and communities. So far, it has won 7 awards such as △Hwahae Beauty Awards △Cosmopolitan Editor's Pick △Taiwanese Oh! My Venus (TV broadcast) △Glow Pick Consumer Beauty Awards △ Glow Pick Consumer Choice △ Chicor Best Awards △29CM Beauty Awards.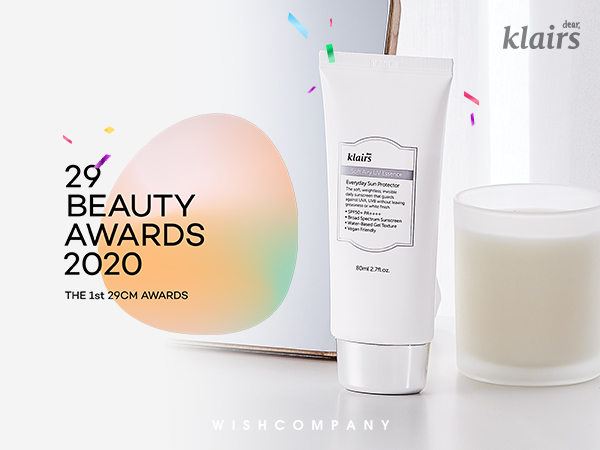 Klairs is referred to as 'Toner Artisans' by consumers, so it is a good idea to pay attention to them along with the sunscreen. Together with 'Supple Preparation Toner,' which became a million-seller selling a total of million bottles like July, and 'Unscented Toner,' its unscented version, 'Daily Skin Hydrating Water,' a recent hydrating toner launch, 'Daily Skin Softening Water,' a low-pH exfoliating toner, will all be available at the pop-up. The Supple Toner line renewed its packaging to be more sustainable, printing with soy ink on an environmentally-friendly certified paper.
Furthermore, customers and experience at the pop up the products such as 'Freshly Juiced Vitamin Drop,' #1 in the category of essence in Chicor's Best Awards, 'Freshly Juiced Vitamin E Mask,' winner of Soko Glam's Best K-Beauty Awards, and 'Cushion, Whenever,' which allows various finishes and coverage/texture control with its two types of high-end puffs.
Jayoung Jeong  Leader of PR Lab at Wishcompany has stated that "the main consumers of Klairs are millennials, and they related to the values such as cruelty free·vegan friendly that the brand has pursued from the beginning of its launch. This seems to be the reason why we did well on 29CM, which is frequently visited by millennials who look for ethical consumption." Jeong also stated that "we expect the 29CM pop-up will be a good opportunity for us to meet, in the offline space, more people who will relate to the values of Klairs."
ㅡ
PR Contact: pr@wishcompany.net
ㅡ
Related News:
[장업신문] 클레어스, 강남 '29CM스토어'에 단독 팝업 오픈
[마켓뉴스] 클레어스, 강남 '29CM스토어'에 단독 팝업 오픈
[코스모닝] 클레어스, 29CM스토어 강남점 입점
[로이슈] 클레어스, 강남 '29CM스토어'에 단독 팝업 오픈
[머니S] 클레어스, 강남 '29CM스토어'에 단독 팝업 오픈…인기 제품 총 10종 선봬
[코스인코리아닷컴] '토너맛집' 클레어스, 강남 '29CM스토어'에 단독 팝업 오픈