6th Fundraising Project
From Dear, Klairs for World Day for Laboratory Animals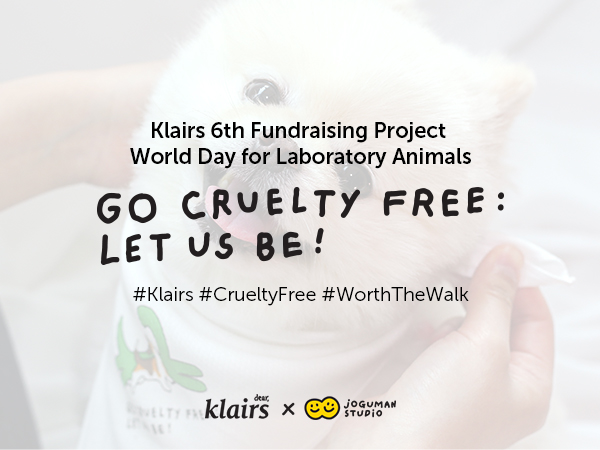 Have you heard about the 'World Day for Laboratory Animals'?
Established on April 24th 1979 in the UK, it is a day where global voices come together to protest against animal research.
However, immoral animal research is still existent after over 40 years since this day. With a heavy heart in regards to this situation, Dear, Klairs has organized a charity project <GO CRUELTY FREE: LET US BE!> on April 24th 2020.
This campaign was established with hopes of getting more people to practice and show empathy to the cruelty free movement. All proceeds made from mini pouches, handkerchiefs, and drink bags designed from the motive of 'a walk with your pet' will go to the charity. This is the 6th project from Dear, Klairs that associates the brand's philosophy with charity, and has significance being the first project to have global consumers involved.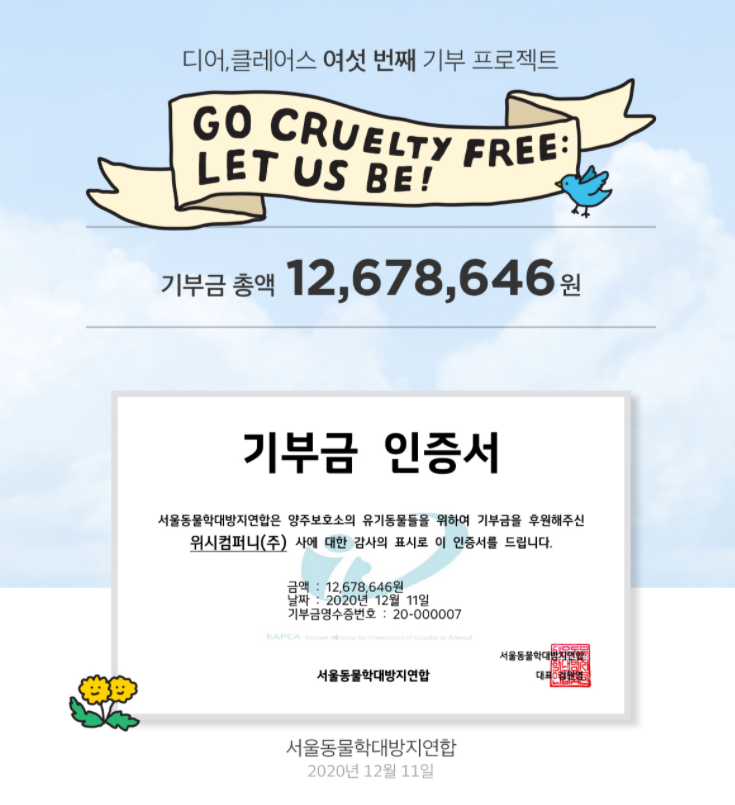 The proceeds from sales totaled to 6,339,323 won, and Dear, Klairs has contributed the same amount making it a grand total of 12,678,646 won, which was donated to the "Seoul Alliance for Prevention of Cruelty to Animal". The Seoul Alliance for Prevention of Cruelty to Animal is an organization that yearns for people⬝animals⬝nature to come in harmony and takes the lead in animal protection. The contributions are anticipated to be used for the rescuing and treatment of abused animals and the cost of purchasing supplies for the cold winter.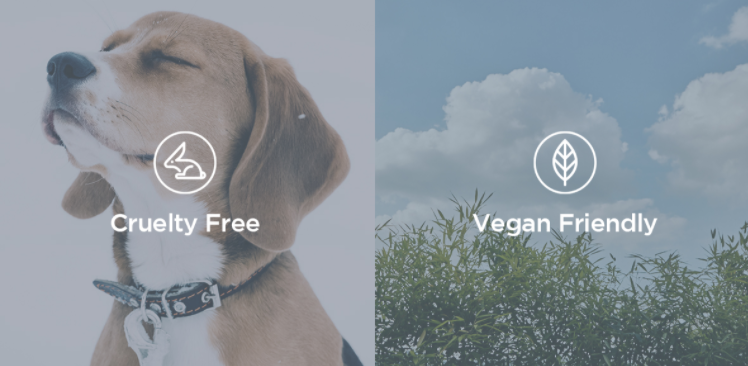 Cruelty Free & Vegan Friendly
Dear, Klairs has aspired to be 'cruelty free' by being against animal testing, and 'vegan friendly' by not using animal ingredients since the beginning of the brand's establishment. Also, on the basis of the brand's outlook on being against animal testing and respecting animal rights, various projects in consideration to animal rights such as the <Space Dog Laika Project> which went towards 'making a animal-friendly school', the <Stay Beagley> which funded 'the rescuing and treatment of tested beagles', and the <Ours Winter> project which was for 'the rescuing and treatment of animals in danger' were organized. We would like to thank all customers for empathizing and showing support to Dear, Klairs' views.