For a limited time, Klairs fans could purchase an exclusive set in part of the Better Than Yesterday campaign – a collaboration with popular Korean mobile food delivery service, Baemin Fresh.
Baemin Fresh,  a sub-sector of Nation of Delivery, is a widely used, trusted food delivery service in Korea. Many recognize it as one of the top mobile food delivery services in the nation and is comparable to services like Grubhub or DeliveryHero. As their name suggests, the company focuses on bringing fresh food to people's doors.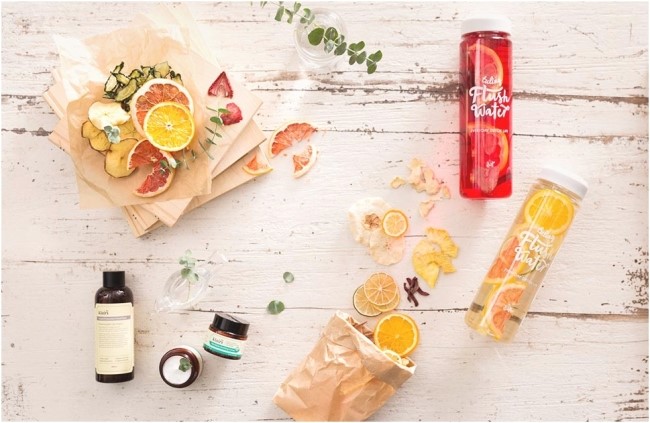 Why did Korean cosmetic company Klairs collaborate with Baemin Fresh?
This unlikely collaboration might seem quite odd, but through the Better Than Yesterday campaign, Klairs and Baemin Fresh came together to emphasize the importance of drinking water.
It is recommended to drink at least 2 liters of water a day for a healthy lifestyle and to reap the benefits of having boosted energy, more radiant skin and cleared acne.
Remembering to drink water can be a chore, but the Better Than Yesterday campaign made it joyful. Individuals could keep their skin and bodies hydrated by using the handpicked Klairs products specialized for moisturizing and drinking the refreshing Tuling flush water from Baemin Fresh.
What did the Better Than Yesterday set include?
Keeping to the theme of hydration, the Klairs Supple Preparation Facial Toner, Rich Moist Soothing Cream, Freshly Juiced Vitamin Drop and the Rich Moist Soothing Sheet Mask were featured in the set.
Many of these products are long-time fan favorites. Here is a closer look at what makes each of them so special:
Klairs Supple Preparation Facial Toner: The No. 1 people's choice toner on Korean beauty rating service Glowpick; popular because of its gentle but intensely moisturizing formula fit for all skin types.
Klairs Rich Moist Soothing Cream: Contains active ingredients like Jojoba Seed Oil, B-glucan, Phyto-oligoand Centella Asiatica, this cream calms and soothes irritated skin while also providing moisture and hydration.
Klairs Freshly Juiced Vitamin Drop: Rejuvenating dull skin, the Freshly Juiced Vitamin Drop is designed with naturally effective ingredients that are safe and non-irritating but effective in getting rid of dead skin cells and tightening pores to bring back a healthy glow to the face.
Klairs Rich Moist Soothing Sheet Mask: Made of 100% cotton, this mask contains half a bottle of essence and has an 85% repurchase rate.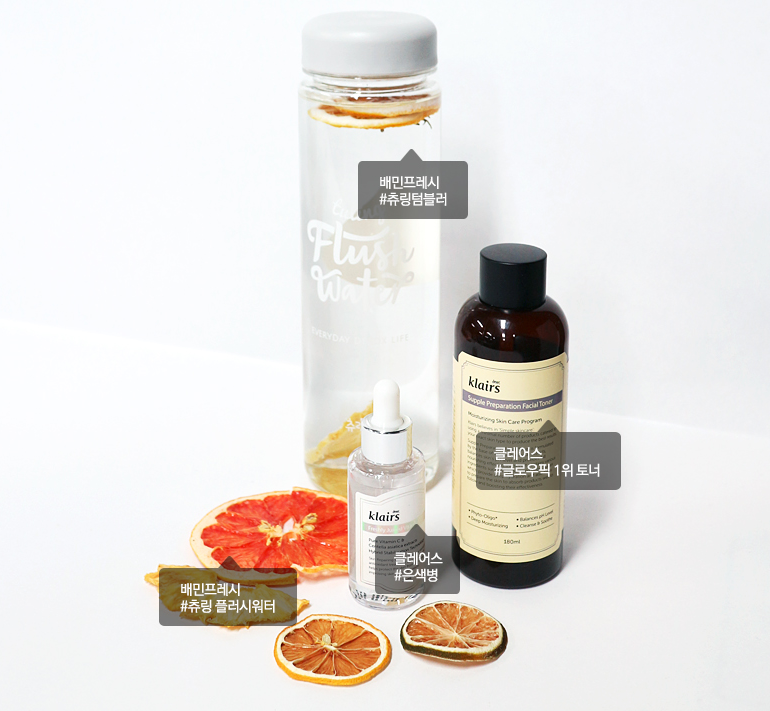 How did the public react?
Many satisfied people explained how the set kept not only their bodies hydrated, but also their skin moisturized.
"A collaboration of toner and flush water! I'm so pleased because the products are so gentle and moisturizing." – user 조**

"I just apply the toner every day after I wash and my face lights up after about a month. I really love this!" – user 김**

"People weren't praising these products for no reason. The toner is thick and hydrating so even with a little, it's very moist. I slept after putting on the vitamin serum and the next morning my skin was so much better." -user 이**

"I planned to only buy the serum at first but I got this box because I needed toner. Everything absorbs very well. I usually never drink water but I'm also drinking more now." – user 권**
What plans does Klairs have for future collaborations?
Klairs expresses hope for more collaborations with popular characters and other prominent brands in creating limited edition products.
As Klairs continues to grow in popularity, it is safe to say that people should lookout for more exciting projects.
Until then, shop and learn more through their Korean homepage or Wishtrend, the e-commerce site of Wishcompany, who produces Klairs.