-The spotlight is on Klairs, the Biggest Winner among Skincare brands
-Synergy effect as tourists and Korean Millenials are both Klairs' and Chicor's customer base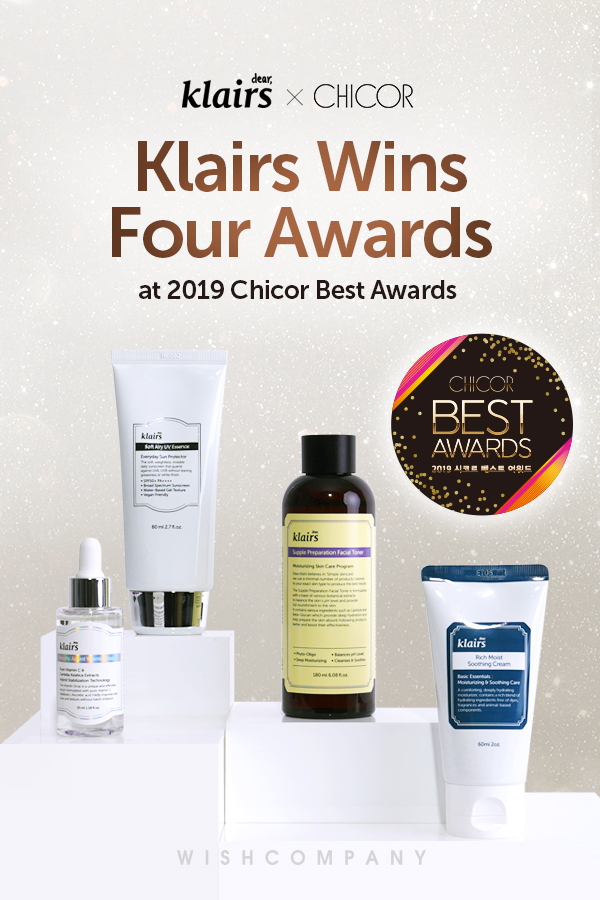 Skincare brand for sensitive skin dear,klairs won the most awards at Chicor Best Skincare this year.
Beauty brand·content development company Wishcompany (CEO Soungho Park, wishcompany.net) announced that the products from Klairs have won the most awards among skincare products at 'Chicor Best Awards 2019', an award which selects its winner based on sales by Chicor, a beauty select shop run by Shinsegae Department Store.
Chicor Best Awards began its history earlier this year and this is their second one. Three of Klairs products won the first half, and Four this second half, making the brand as second consecutive biggest winners in the skincare category.
Klairs won the first place in 4 out of 13 skincare categories, Toner, Lotion/Cream, Essence, and Suncare. The winners of the first half of the year, △Toner: Supple Preparation Facial Toner, △Lotion/Cream: Rich Most Soothing Cream, △Essence: Freshly Juiced Vitamin Drop, hold their crown while the △Suncare: Soft Airy UV Essence won its first one.
While most of the categories are won by each various brands, Klairs is the only brand that won in 4 categories, which is a remarkable achievement. On top of that, winners from Klairs are also best-selling products in the overseas market as well, like their Supple Preparation Facial Toner that was sold more than a million times according to earlier this year's report.
Juhee Choi, the Manager of Domestic Sales & Marketing of Klairs, explained that "Klairs is loved both in Korean and the overseas market. We're seeing some synergy effect as our customer base, Korean Millenials and tourists from overseas, is also Chicor's." and also said that "Klairs will continuously secure sales channels that can have a synergy effect like this, and create our own space where we can express the brand identity and communicate with customers face to face.
ㅡ
PR Contact: pr@wishcompany.net
ㅡ
Related News
[마켓뉴스] 클레어스, 시코르 2019 베스트 어워즈 4관왕 수상 '영예'
[장업신문] 클레어스, 시코르 2019 베스트 어워즈 4관왕 수상
[로이슈] 클레어스, 시코르 2019 베스트 어워즈 4관왕 수상
[디지틀조선일보] 클레어스, 시코르 2019 베스트 어워즈 4관왕 수상
[한국면세뉴스][뷰티N] 명동·샹젤리제플래그십-홀리데이기프트-뷰티어워즈수상 등 시즌행보 활발