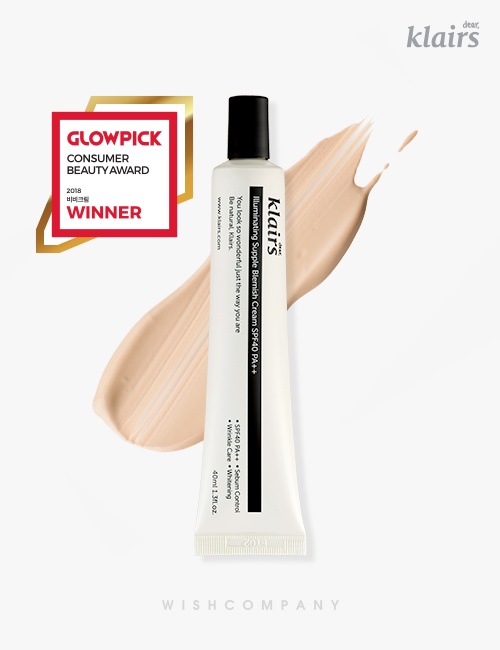 Wishcompany, a beauty brand, and content developing company, has announced that its skin care brand Klairs' Illuminating Supple Blemish Cream has won the 2018's Consumer Beauty Award BB Cream Winner on Glowpick. It has won for 5 consecutive times since 2015.
Glowpick is a beauty ranking application that has high reliability which is specially designed for costumers to leave their honest reviews, and most of the products in the market are listed in various categories. Currently, more than 1,000 different BB Creams are listed on Glowpick. In this condition, it's meaningful that one product gets to be ranked high, and keeping that rank for several years.
Klairs almost never stop producing products since most of them are steady sellers. The rate of re-purchasing is high and has a strong presence as best sellers in multiple sales channels at home and abroad such as Chicor, Amazon, iHerb, A-land and more. The Glowpick Winner Illuminating Supple Blemish Cream is the same. It's a hydrating BB Cream for sensitive and dry skin type, it's been called as 'Mochi BB' since it captures the natural skin tone which is why it's been praised regardless of gender.
The main reason why Mochi BB's been praised is that it applies really well, and gives the skin look natural and flawless. It has less white-base which is the cause of darkening, and even dry skin type can enjoy it without looking cakey or leaving a grey cast. It's a hydrating cream type product that can have more coverage when mixed with a matte foundation.
Klairs Brand Manager, Song Lee said "I appreciate that Klairs products have been positioning as steady sellers in the beauty market where tons of brands and products are produced. And we'll introduce and develop the products that are in need of Klairs customers.
You may find Klairs Illuminating Supple Blemish Cream on Wishtrend or through other retailers.