– 600% sales increase from last month using the rapidly growing e-commerce platform TikTok Shop in Vietnam
– 1.9-million-views live streaming on TikTok Shop in Sept. and Nov., "fourth highest" sales and interest
– Expanding its Vietnam market performance through expertise on utilizing content and media based on 5.5 million subscribers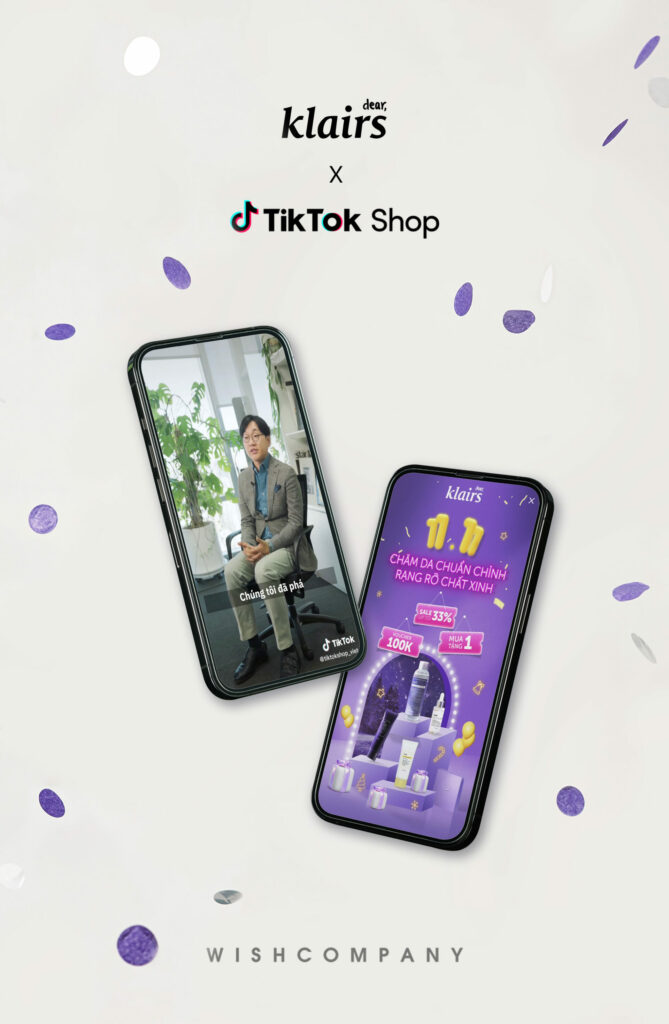 "Dear, Klairs" is expanding its performance in the Vietnam market after being selected as the fourth hottest rising star in the Vietnamese TikTok Shop, recording 1.9 million views. Dear, Klairs is the representative brand of Wishcompany Inc., which is a Korea-based global beauty content company (CEO Park Soung-ho).
Dear, Klairs officially launched its TikTok Shop "Klairs Vietnam" channel in Vietnam in August, with its rapidly growing users in Vietnam TikTok and TikTok Shop are growing platforms that are drawing a lot of attention in Vietnam. With their local popularity, Dear, Klairs participated in the "9.9 Campaign," which is a large shopping sales event, only 1 month after launching its official channel.
Wishcompany hosted live broadcasts on the TikTok Shop in Vietnam for the 9.9 and 11.11 Campaigns in September and November, respectively. During the 11.11 Campaign, Dear, Klairs accomplished 600% sales growth compared to the previous month, the largest sales record of the brand, and 1.9 million views, three-fold compared to the previous month. In addition to sales, Dear, Klairs recorded the fourth highest popularity in the TikTok Shop Beauty division for the September campaign and was selected as a rising star based on the collaboration with local creators. Wishcompany, the only Korean skincare brand to be ranked, has more than 5.5 million subscribers around the world with its expertise in content development and media use.
Dear, Klairs, which led a successful campaign, is a global skincare brand that has gained its popularity as a steady seller across 60 countries around the world. Early this year, Dear, Klairs was ranked by the Vietnamese Watsons in the second place for the 2021 Skincare category. In October, Dear, Klairs was also selected as "Consumers' Favorite Brand" by Guardian, a large-scale H&B store in Vietnam.
Chief Manager Son Hye-jin, who is in charge of Wishcompany's Asia-Pacific sales, stated: "Quick response to localized content, new media, platforms and utilizing them will be effective in expanding brand awareness and increasing sales. We will continue to make efforts to further strengthen customer contact points through local customized campaigns."
Dear, Klairs began its history in 2010 in Seoul as a global skincare brand and has currently produced 8 products that sold millions globally. Every product boasts a vegan formula and has been approved to be vegan certified by the international animal rights organization PETA. Based on such achievements, Wishcompany has been selected as the "Asia-Pacific High-Growth Companies" selected by the British Financial Times this year.