– Expanding from skincare to a lifestyle brand… to share the value of a "Balanced Life"
– A caffeine-free chrysanthemum and mugwort blend for everyone to enjoy
– Collaboration with "Magpie & Tiger," an East Asian tea brand… increased the value of sustainability by using biodegradable teabags and FSC-certified paper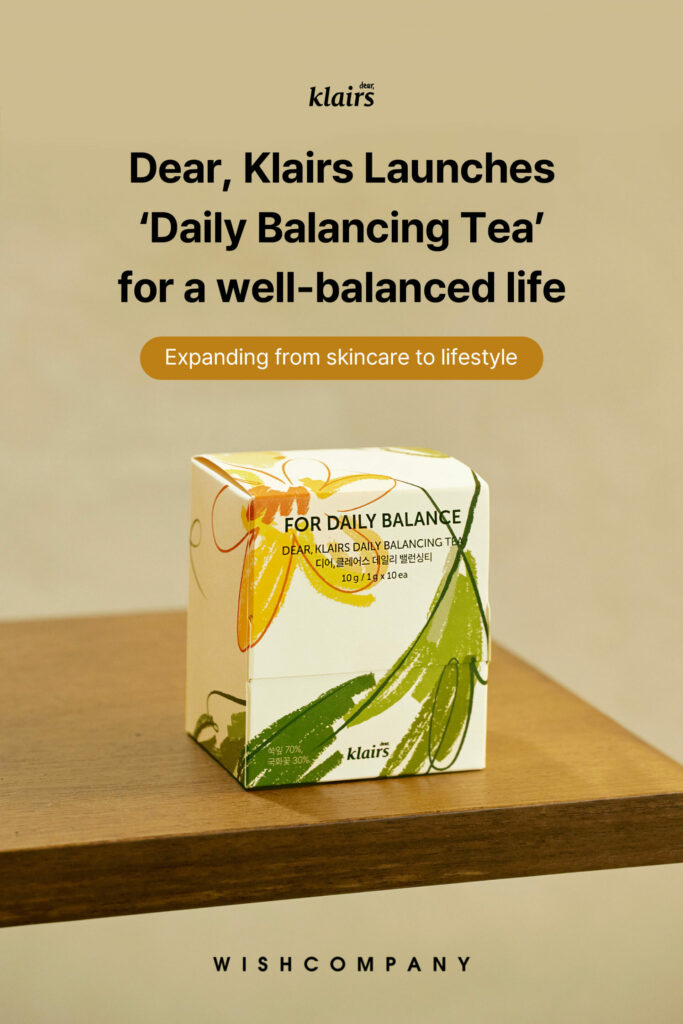 Global beauty content company Wishcompany (CEO Park Soung-ho) announced their representative brand "Dear, Klairs" has launched a "Daily Balancing Tea" to expand its scope from skincare to lifestyle on the 20th.
"Daily Balancing Tea" is a blend of chrysanthemum and mugwort harvested by Younoo Tea, a representative attraction in Hadong that has been growing tea for three generations. As a caffeine-free tea, anyone of all ages can enjoy it without concerns about excessive caffeine intake.
Moreover, it added the value of sustainability by using biodegradable teabags approved by the FDA and FSC-certified paper on its packaging. Comprised of ten packets per box at 15,900 won, "Daily Balancing Tea" is available at Dear, Klairs' online mall, Klairs Seoul, and Chicor in Gangnam.
The subsequent launch is meaningful as it is a collaboration between Magpie & Tiger, a well-known East Asian tea brand. Magpie & Tiger is running the Sinsa Tearoom on the second floor of Dear, Klairs' offline flagship store, "Clairs Seoul," on Garosu-gil road. Magpie & Tiger has recently created active synergy by opening a tearoom at Musinsa's Seongsu branch, an online fashion platform.
Senior manager Kim Sohyun of Wishcompany's Strategic Planning Team said, "I'm delighted to share our brand value of pursuing a balanced life through Daily Balancing Tea." And added, "Starting with the launch of this tea, we will grow into a brand that suggests a healthy lifestyle to everyday lives."
Meanwhile, Dear, Klairs have introduced Sinsa Tearoom and Brickbooks in collaboration with various lifestyle brands in line with the opening of Klairs Seoul in 2020. In addition, it is expanding its brand value into the realm of lifestyle by providing comfort and relaxation experiences through meditation, exhibitions, and lectures.