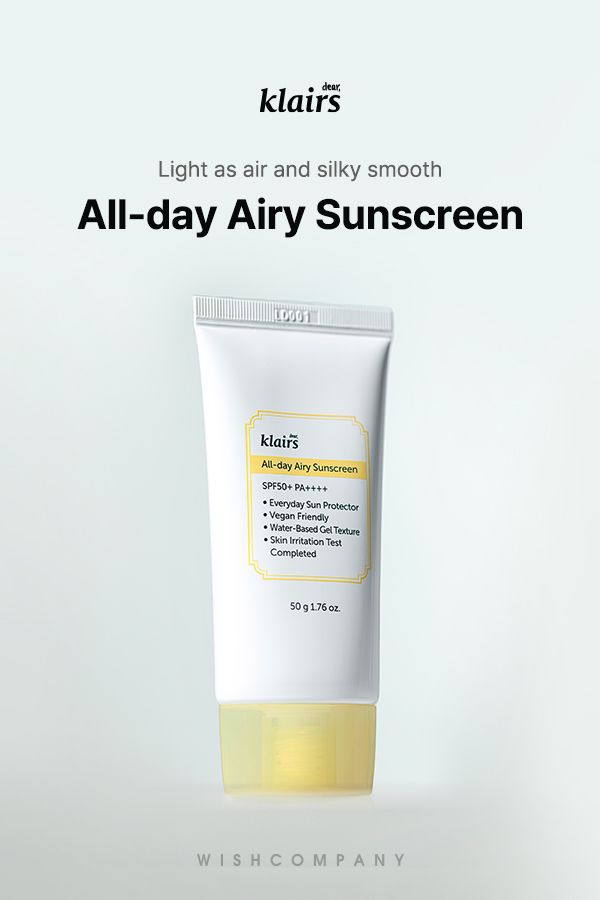 Wish Company (CEO Ryan Sungho Park), beauty brand, commerce, and content company launched a new SPF product, the All-Day Airy Sunscreen, on the 31st.
The development of the All-day Airy Sunscreen started in January 2021 and underwent three tests at domestic and international clinical trial institutions. The tests verified the UV protection index SPF50+ and PA++++. Clinical tests such as eye irritation tests, primary irritation tests on human skin, and primary irritation tests on sensitive skin have proven that the product is effective and safe to use.
The All-day Airy Sunscreen contains its own prescription technology that offers strong UV protection and usability. It is light and refreshing to useas it does not leave a sticky residue feeling on the skin. The SPF productalso does not leave a white cast and is recommended to use before applyin makeup.
In addition, it is a multi-purpose product that contains adenosine and niacinamide components that help improve wrinkles while offering UV protection. Other ingredients include four types of berry extracts, allantoin, and macaroot extracts that gently soothe heated skin.
"We expect the All-day Airy Sunscreen to protect skin from UV rays with aproven blocking index," said Kwon Se-Jin, manager of the Klairs productdevelopment team. "We hope our new product can be used anytime and anywhereby our customers.
Meanwhile, Klairs is offering up to 15% off on the new All-day Airy Sunscreen to celebrate the launch of the new product. More information can be found on the Klairs official website, www.klairs.com.
■ For more information : Wish Company (Communication Lab)
-Soyoung Jeon (Cell: 010-4117-1812, E-mail: Berry@wishcompany.net)