Hand sanitizers are now an essential part of our daily lives.
Hand sanitizers are kept and used everywhere in our daily lives like when we return home after going out, visit crowded places, or need quick disinfection before meals.
Although the product is used for sanitizing, there are some moments when it may feel burdensome to use hand sanitizer every single time. By using it a few times a day, you may feel that your skin is irritated or dry.
In May 2022, Dear, Klairs launched the Daily Comfort Hand Sanitizer, a fragrance free disinfectant that takes into account the diverse environment and sensitive skin of everyday life.
Get your own sanitizer from Dear, Klairs for smooth, clean hand care everywhere.
Create a comfortable and safe daily life with a soft, moist hand sanitizer.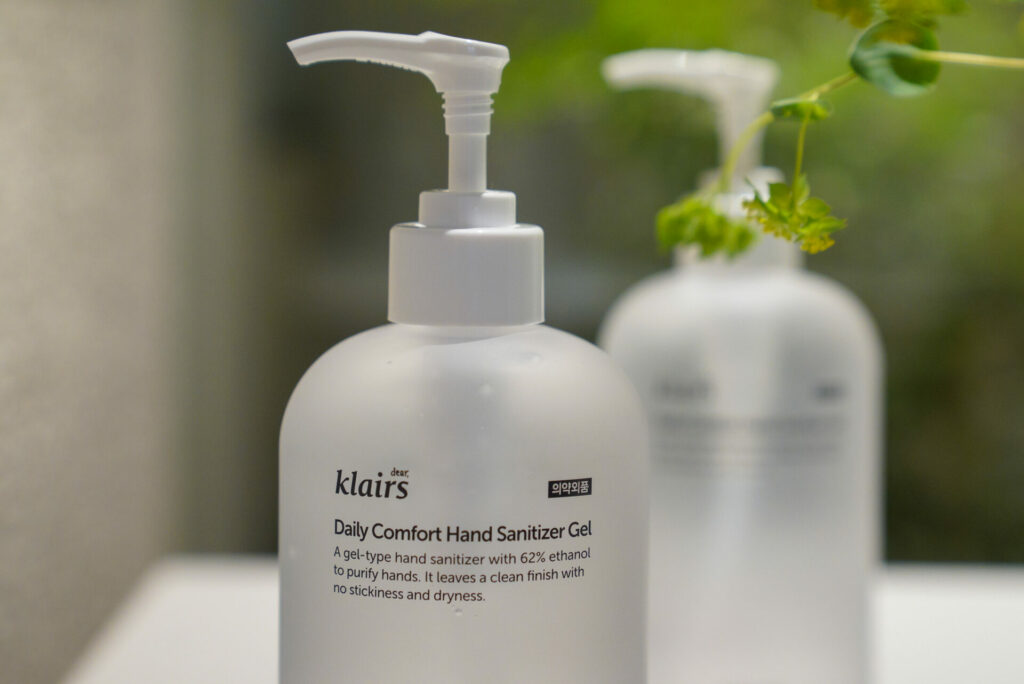 Daily Comfort Hand Sanitizer Gel ingredients
The Daily Comfort Sanitizer contains 62% plant-based ethanol. It has a definite sanitizing effect, yet it is a gentle product that can be used daily on any skin type, as we have reduced any possible irritation. It also contains grapefruit X and green tea X, which helps protect the skin.
Daily Comfort Hand Sanitizer Gel moisturizes hands without any stickiness or irritation
The thick, moisturizing texture can be applied smoothly to the desired area as it is not too watery and it absorbs quickly after application. However, since the moisture does not evaporate and absorbs into the skin comfortably, you can feel a moist sensation even after use.
Fragrance-free daily sanitizer
Also, the Daily Comfort Sanitizer is an unscented product.
From shampoo, body wash, perfume, body lotion, and so on, we use a lot of scents during our day.
There are so many different scents in the world, and we each live with so many different preferences.
Some people are sensitive to fragrances, and some people are cautious about using fragrant products because they have pets.
The Dear, Klairs Daily Comfort Sanitizer is unscented, so it can be used by anyone, anywhere, anytime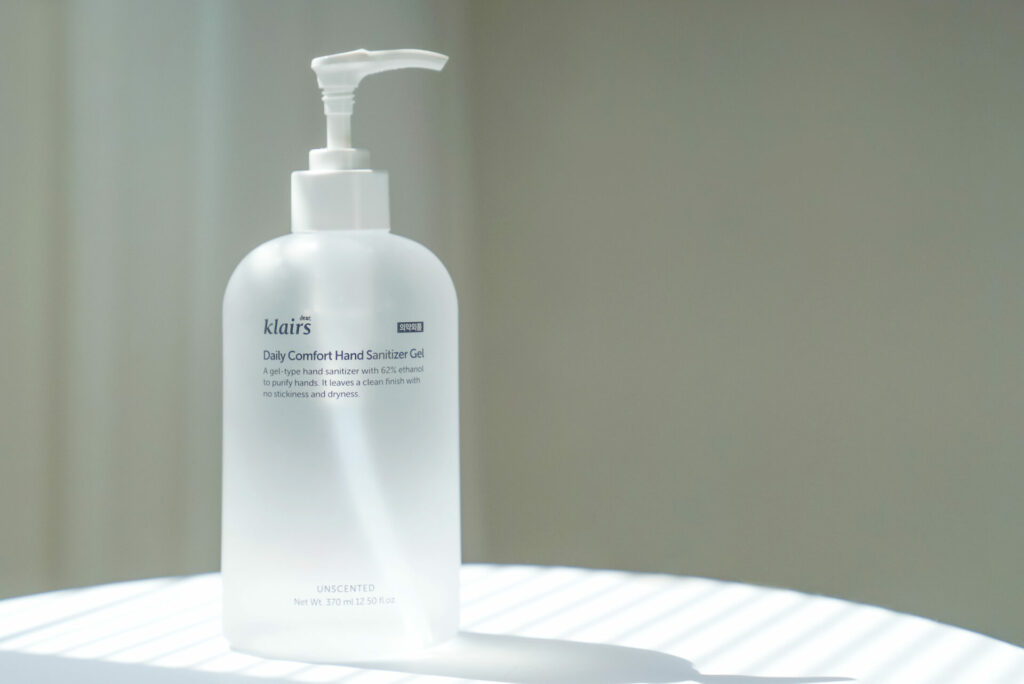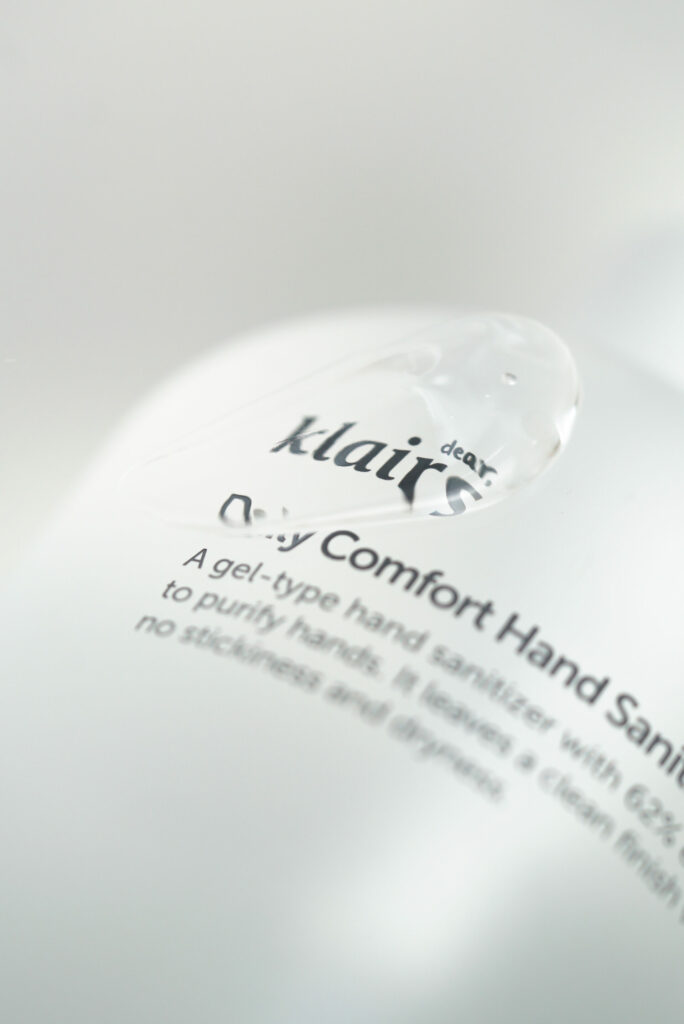 Eco friendly and sustainable packaging
The Daily Comfort Sanitizer is designed to look good in any space, including a cozy living room, on a table in a restaurant, and a beautifully decorated cafe. The transparent bottle shows that the product is faithful to the product's nature, and it also melts into your living space without a sense of difference.
The packaging is made using only essential materials, which is in line with the brand philosophy of Dear, Klairs, which is being 'eco-friendly'. Dear, Klairs consistently puts a lot of thought into "sustainability," as we refrain from using unnecessary packaging as much as possible in all of our products as well as our sanitizer, and we are also working on various environmental projects such as using eco-packaging.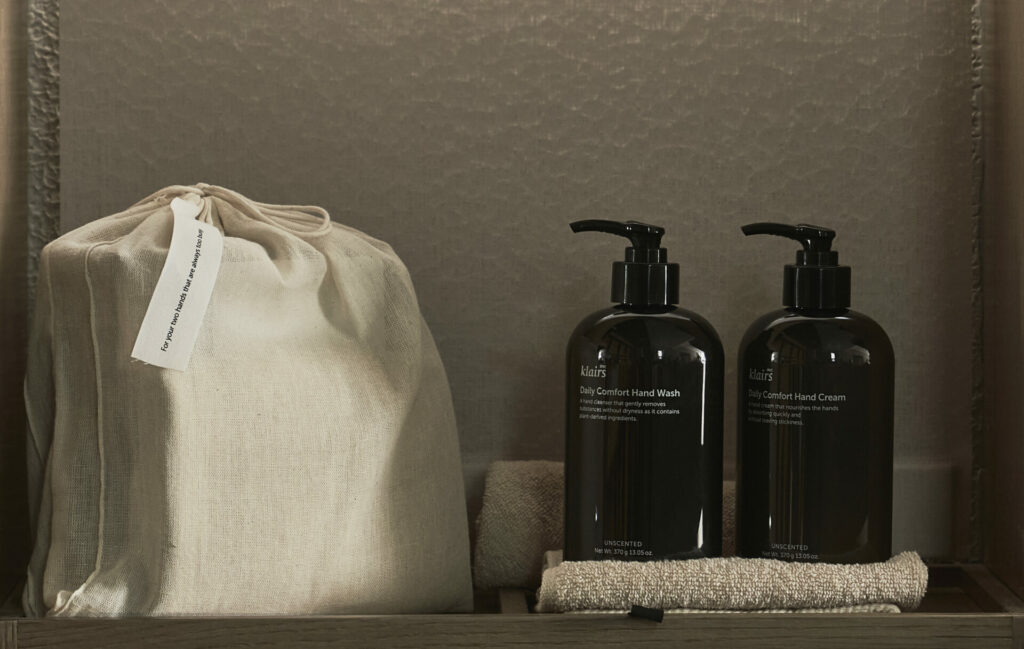 You may use the Daily Comfort Sanitizer on its own, but if you want to care for your hands in more ways by washing and moisturizing them, we recommend the Daily Comfort Hand Set. In addition to the sanitizer, it consists of a hand wash and hand cream, and they are all hypoallergenic/unscented products, so they can be used by anyone.
Use the sanitizer when you want simple and comfortable disinfection, use the hand wash if you want a quick and natural scrub cleanse, and use the hand cream if you want to add fresh and healthy moisture to your hands.
In addition, customers who purchase the Daily Comfort handset will be receiving Have A Hemp's "All-Rounder Hemp Towel" made of hemp material and organic cotton. Hemp towels are made with natural fibers that have their own antibacterial properties and are eco-friendly products that can save water and detergent usage.
Dear, Klairs is trying to blend into your daily lives and reach our customers in more diverse ways by taking steps with other brands that promote "sustainability."
Find the balance of your daily life with the Daily Comfort Sanitizer & Hand Set.
Our hands are apart, but our hearts are so close
Our hands are the busiest body part.
You move them many times a day, you may touch some things, and you may touch some people.
Even when it's hard to see people's expressions, our hands are always honest and agile.
Because they move so much, it's easy for them to get rough, or get affected by external factors.
Dear, Klairs presents a gentle Daily Comfort Sanitizer and Hand Set to ease and save your busy hands.
Create a comfortable and safe daily life with Dear, Klairs.