Klairs Seoul, which opened in November 2020 to mark the 10th anniversary of Dear, Klairs, is the brand's first flagship store located in Garosu-gil, Seoul, South Korea with one basement floor and four ground floors.
It is a space that embodies the philosophy and values of Dear, Klairs, and we want to expand the experience of all our products as well as our experience with customers.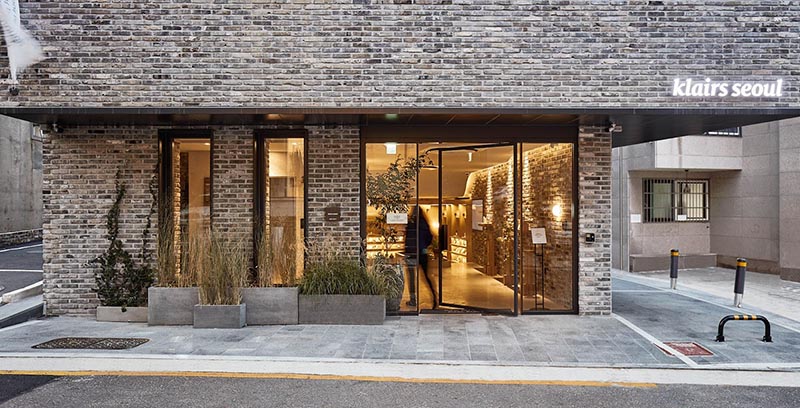 Q. How did Klairs Seoul come to be?
Dear, Klairs has met customers through online and retail stores in various countries over the past decade. In the process, we wanted to meet customers and share not only the products of the brand, but also the philosophy and overall experience of the brand, so we opened a store in Garosu-gil, Sinsa, located in the middle of Seoul, Korea.
Q. What was put into importance when creating the flagship store?
Above all, we wanted it to look like a natural space, much like the direction the brand is aiming for.
We recycled the bricks of old castles and made the most of the texture of eco-friendly rocks and wood, and chose a brick building with small windows instead of windows that are not heat-efficient, to increase the energy efficiency of the heating and cooling systems. Also, we arranged plants in consideration of the seasons so that visitors can feel as if they are within nature.
In addition, we tried to reflect eco-friendliness, which is also one of our brand philosophies, in the space and overall store operation. During the construction process, we actively aimed to recycle materials, and even after our opening, we are making efforts to provide hand towels made of hemp material to customers who wash their hands and wash them for reuse.
Q. What is unique to Klairs Seoul?
Klairs Seoul is not just a place that sells the brand's products. "Brick Books, the Smallest Bookstore on Garosu-gil," located on B1F, presents curated books every quarter, and you can enjoy a cup of tea at "Sinsa Tea Room" on the second floor. You can also experience various events such as exhibitions and book talks on the 3rd floor.
Like this, Klairs Seoul is a complex cultural space that encompasses the overall lifestyle, providing customers with a variety of enjoyment.
Q. What do you want to say to customers who visit Klairs Seoul?
Klairs Seoul is the first offline space to see how Dear, Klairs has grown over the past decade, and it is the starting point to expand the brand's reach.
We are preparing various events by regularly updating the contents in Klairs Seoul. If our global customers plan to visit Korea, please visit Klairs Seoul where they can meet the philosophy of Dear, Klairs.