The Rich Moist Soothing Cream was recently announced as one of 10 beauty products selected as a recipient of the 2017 Soko Glam Best of K-Beauty Award.
What is the Best 0f K-Beauty Award?
Hosted annually by Soko Glam, leading online marketplace that specializes in bringing Korean beauty products to the US, the Best of K-Beauty Awards is held to recognize the best of the Korean beauty.
Winners are chosen with the following three points in mind, as taken from the Soko Glam website:
It has to be one of Soko Glam's best-selling products with off-the-chart reviews from real customers.
It has to be approved by Korean locals and by trusted beauty influencers, experts, and editors.
It has to have team Soko Glam's official stamp of approval (i.e. it's innovative, effective, and we can't live without it).
Why the Rich Moist Soothing Cream?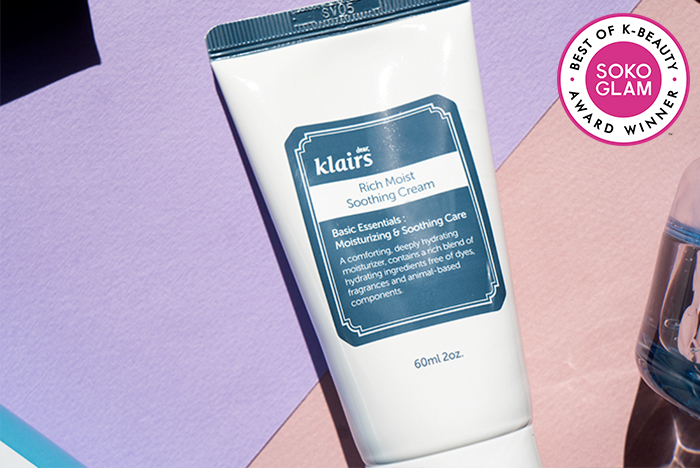 Just in time for the drier months, the Rich Moist Soothing Cream has recently been gaining popularity.
Introduced by Soko Glam as the "the go-to, reliable moisturizer you'll reach for daily", this moisturizer is fortified with ceramides, jojoba oil and beta-glucan, which work to soothe, hydrate, and protect the skin day and night.
This is the third consecutive year Klairs has been given the honor of the Best of K-Beauty  Award, with the Freshly Juiced Vitamin Drop in 2015, and the Supple Preparation Facial Toner in 2016.
The Rich Moist Soothing Cream is available for international purchase online through Klairs' official retailer, Wishtrend, or through Soko Glam.