-'All-in-one' mask that will come in handy in dry winter seasons
-Contains sucrose granules to smoothly exfoliate; shea butter and jojoba seed oil to hydrate the skin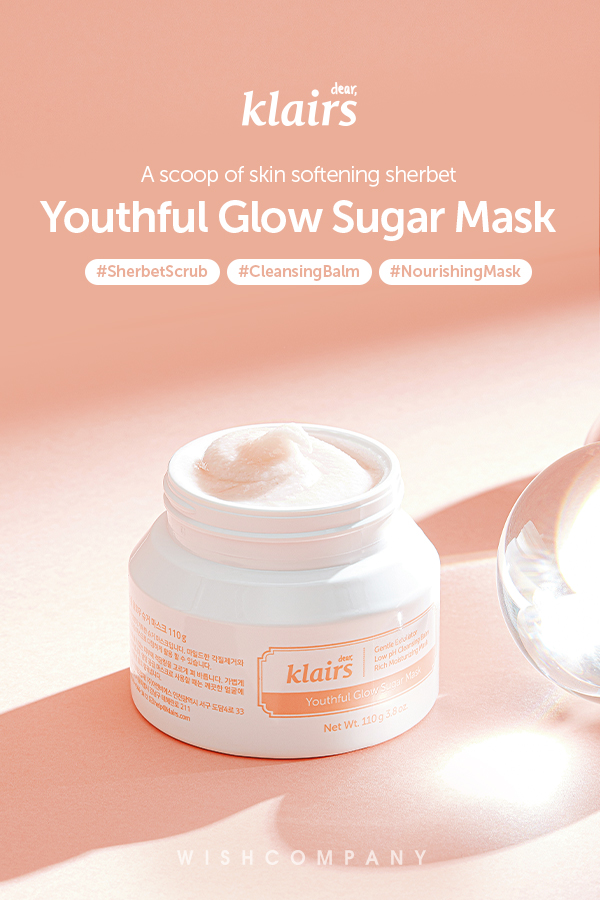 dear,klairs, a skincare brand for sensitive skin from the beauty brand·content development company Wishcompany (CEO Soungho Park, www.wishcompany.net) just launched a multi-purpose 'Youthful Glow Sugar Mask' with scrub, cleanser, and hydration functions.
The tiny, smooth sucrose granules contained in the Youthful Glow Sugar Mask gently exfoliates piled up dead skin cells and can come in handy in cold and dry seasons like this where your skin and lips can get a bit harsher. Also, as the mask is oil-based, it easily turns into a makeup cleanser when it is applied on your wet face and gently cleanses your makeup away.
Moreover, the shea butter and jojoba seed oil with the strong moisturizing ability enable you to enjoy the mask as a quick hydration mask when needed. Apply the mask on your face and after 10 minutes, the mask will leave your skin moist and nourished. It also contains active ingredients such as grapefruit extract and raspberry seed oil to help with antioxidizing.
Klairs is a skincare brand for sensitive skin that pursues sustainability and develops cruelty-free products, while also striving to make them vegan-friendly. The Youthful Glow Sugar Mask is also vegan and free of paraben, sulfate, silicone, alcohol, artificial fragrance, and other toxic ingredients that might irritate sensitive skin.
Juhee Choi, the Manager of Domestic Sales & Marketing, explained that "While the previous 'Gentle Black Sugar Facial Polish' is more focused on improving blackheads and pores and provides more refreshing finish, the newly dropped 'Youthful Glow Sugar Mask' is far more gentle. Yet, it still has an effective exfoliating effect and leaves your skin hydrated."
ㅡ
PR Contact: pr@wishcompany.net
ㅡ
Related News:
[장업신문] 클레어스, '유스풀 글로우 슈거 마스크'
[로이슈] 클레어스 '유스풀 글로우 슈거 마스크' 출시
[마켓뉴스] 클레어스, 스크럽·클렌저·보습 마스크 기능 담은 '유스풀 글로우 슈거 마스크' 출시
[머니S] 클레어스, '유스풀 글로우 슈거 마스크' 출시… 스크럽·클렌저·보습 마스크 3 IN 1
[코스모닝] 클레어스 유스풀 글로우 슈거 마스크
[프라임경제] [주간#신상태그] 클레어스 '유스풀 글로우 슈거 마스크'
[싱글리스트] 눈처럼 소복이 쌓이는 각질… 저자극 케어템으로 '클리어'
[뷰티코리아뉴스] [2019-12-01 화장품신상] 클레어스, '유스풀 글로우 슈거 마스크'
[BH 11월 4주차 화장품 신상-①기초]겨울철 스킨케어 전쟁 시작됐다