– Klairs, a brand that rapidly grows at home and abroad markets from online to offline channels
– Aggressively expanding overseas market channels in the U.S., Europe, and Southeast Aisa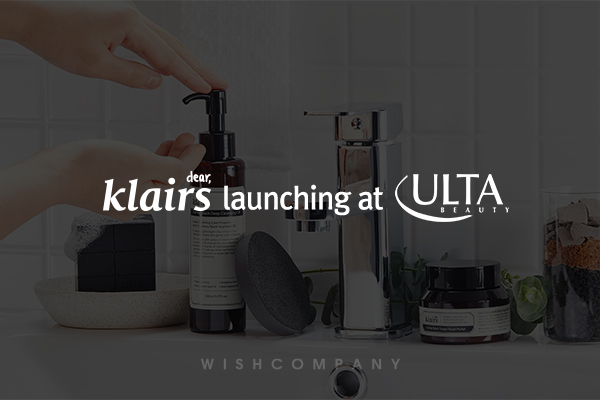 Wishcompany, developing skincare brands and creative contents (CEO Soungho Park), has reported that its sensitive skincare brand Klairs has officially launched on ULTA online mall(Ulta.com), the largest beauty distributor in the United States, on May 17th.
Most of the Klairs products are steady-sellers without being discontinued, and the brand has been growing as a brand with a strong online presence. With its outstanding product lines, Klairs has attracted a large number of customers to its online mall(Wishtrend.com) and also has been rated as best sellers on the major channels such as Amazon, iHerb, and YesStyle.
Continuing to build trust with its high quality with the reasonable price of the products, Klairs' popularity has led to expanding its offline channels. Klairs Freshly Juiced Vitamin Drop has ranked second last year at Chicor, a Korean beauty select shop, and also been ranked as 'Top Rated' among the most popular products on Urban Outfitters, a fashion and beauty select shop in the U.S.
Klairs can be found at popular distribution channels in the U.S. such as a fashion e-commerce Revolve, online and offline stores of Riley Rose, and an offline beauty store Ricky's NYC. As the distribution industry has been closing down its offline stores, it is meaningful that Klairs is growing steadily from online to offline channels.
In addition to the launching in the U.S., Klairs has been steadily expanding its new channels in the European, and Southeast Asian market. It has been positioning as a leading K-beauty brand in Singapore, Malaysia, and the Philippines, as well as actively expanding into the European market, starting from Spain to Sweden, Norway, and Germany. Moreover, it's been planning to launch in Eastern Europe, starting from Selfridges in the UK and Lookfantastic, the European beauty store.
The overseas sales & marketing manager of Wishcompany, Hyejin Son said "Launching on Ulta.com will serve as an opportunity to speed up the expansion of Klairs' online and offline channels in the U.S. market and will continue to appealing fascination of Klairs, the brand itself, to people who've been recognizing the brand as just one of the K-beauty brands."
ㅡ
PR Contact: pr@wishcompany.net
ㅡ
[뉴시스] 클레어스, 미국 최대 뷰티 유통업체 '얼타' 입점
[머니S] 클레어스, 미국 뷰티 유통업체 '얼타' 입점… "해외 채널 확장 중"
[보건뉴스] 클레어스, 미국 '얼타' 입점… 해외 유통채널 확장 박차
[프라임경제] 클레어스, 미국 얼타 온라인몰 입점…해외 유통 채널 확장
[코스모닝] 클레어스, 미국 얼타 온라인몰 진출
[인사이트] 클레어스, 미국 최대 뷰티 유통업체 '얼타' 입점하며 해외 유통 채널 확대 가속화