Klairs has finally made it to the big apple.
Along with a selection of other hand-picked brands, Klairs joined Soko Glam, popular digital-based beauty company, in the launch of their first in-store pop-in experience in none other than the heart of New York at Bloomingdale's Soho.
The Soko Glam Mini Store, launched June 10, was a small but powerful representation of the rising influence K-Beauty is starting to gather in mainstream culture.
Anyone from K-Beauty newbies to junkies were able to walk in and get an hands-on experience with a selection of cult-favorite K-beauty solutions from best-selling Korean brands, to discover more deeply the essentials of skincare and makeup with the K-Beauty spin.
Of course, this caught the attention of big names in the media such as, Buzzfeed, Allure, Glamour, Pop Sugar, Byrdie and more.
"Charlotte Cho personally curated an assortment of compelling products to bring a truly unique Soko Glam experience to the Bloomingdale's shopper, " Stacie Borteck, Bloomingdale's Vice President and DMM of Cosmetics and Fragrances, said in a press release.
Because of the small, intimate nature of the store, the space allowed for customers to have a more personal experience with the brands and products available.
"We simplify the discovery process, breaking down skin concerns and the famous Korean skincare routine in a fun and approachable way," Charlotte Cho, Co-founder and Editor-in-chief of The Klog, said in a Soko Glam press release.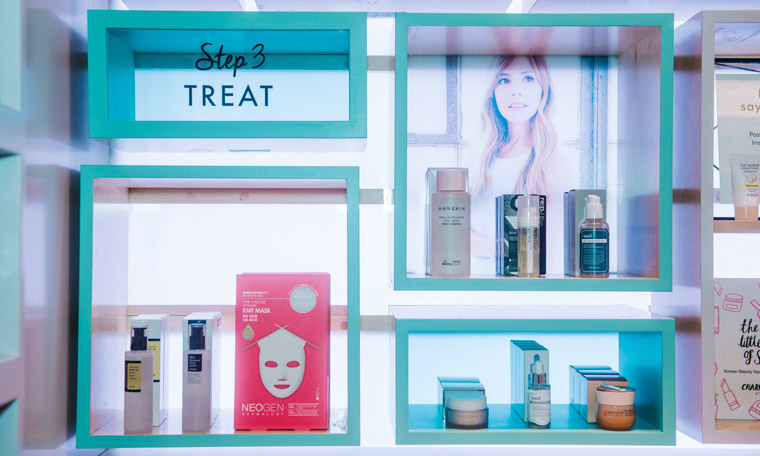 Stations were separated into five skincare steps: cleanse, exfoliate, treat, sheet mask, and moisturize – all of which featured a highly-edited selection of products, many of which were from Klairs.
Visitors to the booth could see products like the Gentle Deep Black Cleansing Oil, Gentle Black Sugar Facial Polish, Freshly Juiced Vitamin Drop, Rich Moist Soothing Sheet Mask and Rich Moist Soothing Serum at their respective sections.
In addition, personal beauty advisors were available for one-on-one insight to help people get started with a right skincare routine and products for their skin type and skin concern, while The Klog's video tutorials were sprinkled around the shop for skincare tips and more information on how to use a certain product.
Preloved by Cho, and mentioned in her best-selling book, "The Little Book of Skincare", in which she popularized the Korean 10-Step Skincare Routine, the Freshly Juiced Vitamin Drop made another appearance in the simple 5-Step-Skincare Routine prepared directly by Cho herself.
Hoping to touch the hearts of many skincare fans through their simple but effective line of products, Klairs continues to receive much love from around the world.
Shop the whole Klairs selection here, and find the full list of Klairs items available in the Soko Glam Mini Shop, here.
See you in Soho!