Dear,Klairs: Supporting Sustainability The Near & Dear, Klairs Project
– Supporting F&B that practice Eco-Friendly and Zero Waste
– 5 companies to participate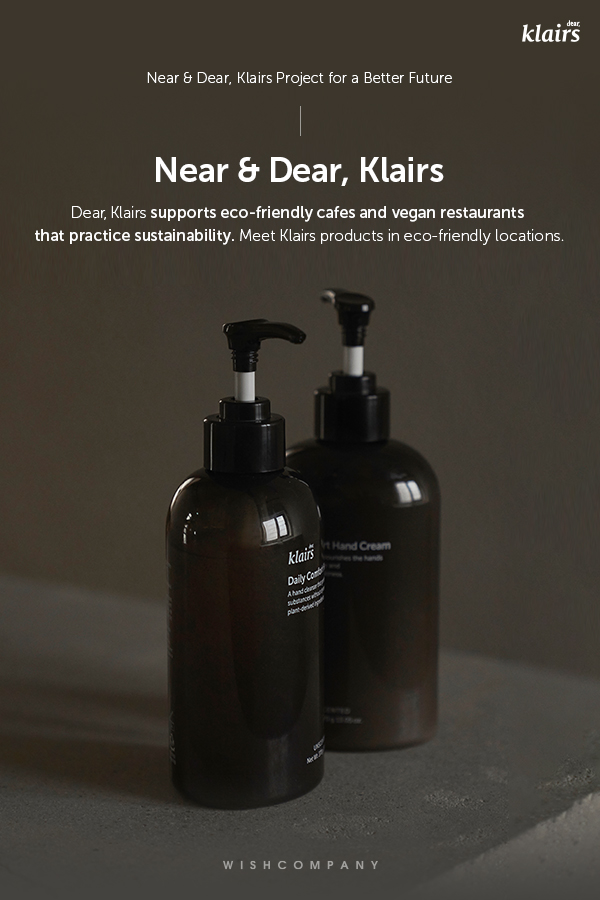 Beauty Brand, contents, and commerce company, Wish Company (CEO Ryan Sungho Park) announced their new project, Near & Dear, Klairs.
Through this project, Dear, Klairs, a vegan friendly and cruelty free skincare brand under Wish Company, will partner with eco-friendly and zero waste F&B businesses. Klairs hopes to promote solidarity and cooperation with F&B brands that value corporate social responsibility and the coexistence of people, animals and nature.
The brands participating in this project are 17 Here You Go stores nationwide, Bean Brothers (Incheon Branch), Bean Brothers Cosmo 40 Points, Dohwa Apartment, Monks Department, and Howl in the Bar (5 enterprises and 22 stores). Brands participating in this project will receive the Klairs Daily Comfort Hand Soap and Hand Cream Set for 6 months. In addition, customers visiting any of the 17 Here You Go stores nationwide can receive seven sample sets for free.
"Companies need to be active in thinking of ways to practice sustainability," said Hyemin Kim, a domestic marketing representative at Klairs. "We hope this project will serve as an opportunity for companies to collaborate with us to increase unity among brands that value sustainability and expand consumer consensus."
Klairs also hopes to expand and partner with more brands for the Near & Dear Klairs Project. Companies wishing to participate in the project can contact representatives at communication@wishcompany.net.
Klairs is a vegan friendly and cruelty free brand that does not conduct animal testing. Founded in Seoul in 2010, Klairs is passionate about raising awareness for human and animal rights. Klairs products can be found online, at their flagship store, and Chicor stores nationwide.
PR Contact: communication@wishcompany.net