For a limited time only, Klairs was seen featured on the front page of Gilt.com
What is Gilt?
Going strong nine years and counting, Gilt Group is one of the originators of the flash-sale model that is now widely popular today.
With a hand-selected curation of products, Gilt offers their customers luxury fashion and lifestyle items with a 70% discount during their sales, which typically last from 36 to 48 hours. Because of their edit of alluring items, their user base has – and continues to – soar throughout the years.  According to a CNN article, it had 1 million members in 2009, 5 million in 2001, and now counts 9 million.
Why do people love it so much? It's flash nature and limited time allure. Sales with limited time offers often bring people running to get the best before they sell out, which is often the case with the exclusive benefits that Gilt offers in collaboration with different fashion and beauty brands.
The most sought after K-Beauty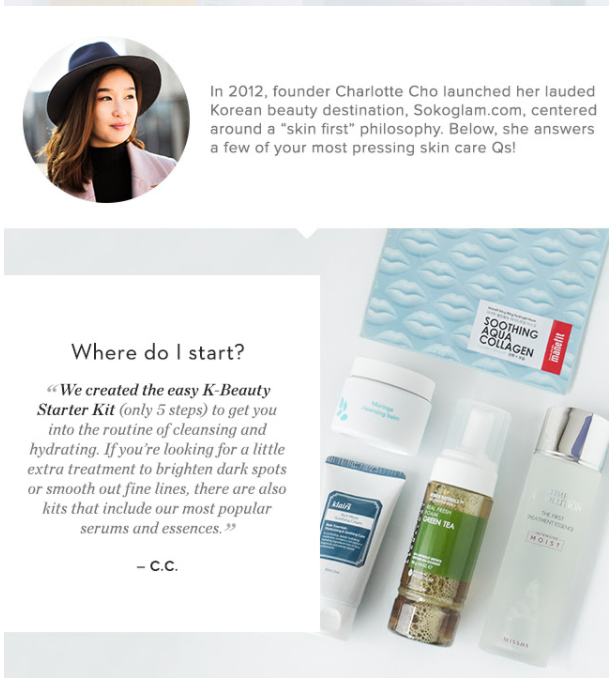 While K-Beauty is calling much attention in the US market, many people are still unsure of where to start and which products to get.
This is why Gilt teamed up with Soko Glam's Charlotte Cho, to launch a K-Beauty flash sale with an exclusive set of hand-created product bundles.
Both personally loved and recommended by Cho, the Klairs Rich Moist Soothing Cream and Freshly Juiced Vitamin Drop were a couple of the lucky selected items, and were featured in three main bundles:
Easy (5-Step) K-Beauty Starter Set
Essentials (7-Step) K-Beauty Routine Set
10-Step K-Beauty Routine Set
What was the response?
All sets sold out during the short but meaningful sale through Gilt.
A confirmation of the great love that K-Beauty is continuing to receive abroad, this collaboration was a great opportunity for Klairs to be exposed to a wider range of people in the US market.
While the promotion with Gilt is over, fear not. The whole Klairs collection is available for online purchase with international shipping at Wishtrend.com, or through any one of their global partners, including Soko Glam.