Wishcompany (CEO Seongho Park), a beauty company, developing cosmetic brands and digital contents, has announced that Klairs has launched in Chicor, the headquarter of Shinsegae Department store in Myeongdong on Nov. 16th.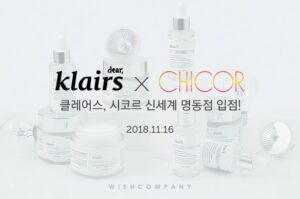 Chicor is a beauty select shop running by Shinsegae Department store, where you can meet Korean and global cosmetic brands. It is known as a Korean version of Sephora and has recently become popular among the young. Especially, the main Shinsegae Department store in Myeongdong is attracting a lot of visitors due to its duty-free shop, opened in 2016.
By launching in Chicor, Klairs has seized the opportunity to broaden its contact with global customers. Moreover, Klairs continuously tries to contact with local customers through the major branches of Chicor; Chicor Gangnam, AK&Hongdae, Yongsan and 12 more branches nationwide.
Klairs has been positioning as one of the popular brands at Chicor and ranked in the Top 50 sales. As of the first half of 2018, Klairs was ranked No.1 in sales △Essence 'Freshly Juiced Vitamin Drop' △Toner 'Supple Preparation Facial Toner' △BB Cream 'Illuminating Supple Blemish Cream' △Make-up Remover 'Gentle Deep Cleansing Oil'
Brand Manager, Song Lee said, "We are excited to meet more customers by launching in Chicor, since Shinsegae Myeongdong is a huge commercial area where a large number of floating population is concentrated. Klairs already has a big global fan-base and it means that we have a chance to broaden our contact with global customers."
Klairs has ranked high in sales on global websites and has loyal fans in Korea thanks to its good quality products. It is leading the K-beauty industry and it has recently released a new product called 'Freshly Juiced Vitamin E mask' which is selected as the winner of 10 popular products of the year at Soko Glam.