Dear, Klairs is a global skincare brand that has entered more than 1,000 distribution channels in 40 countries around the world. For five years following the launch of our brand, Klairs has formed a deep partnership with YesStyle, an ecommerce company setting new standards for K-Beauty & Fashion in the United States.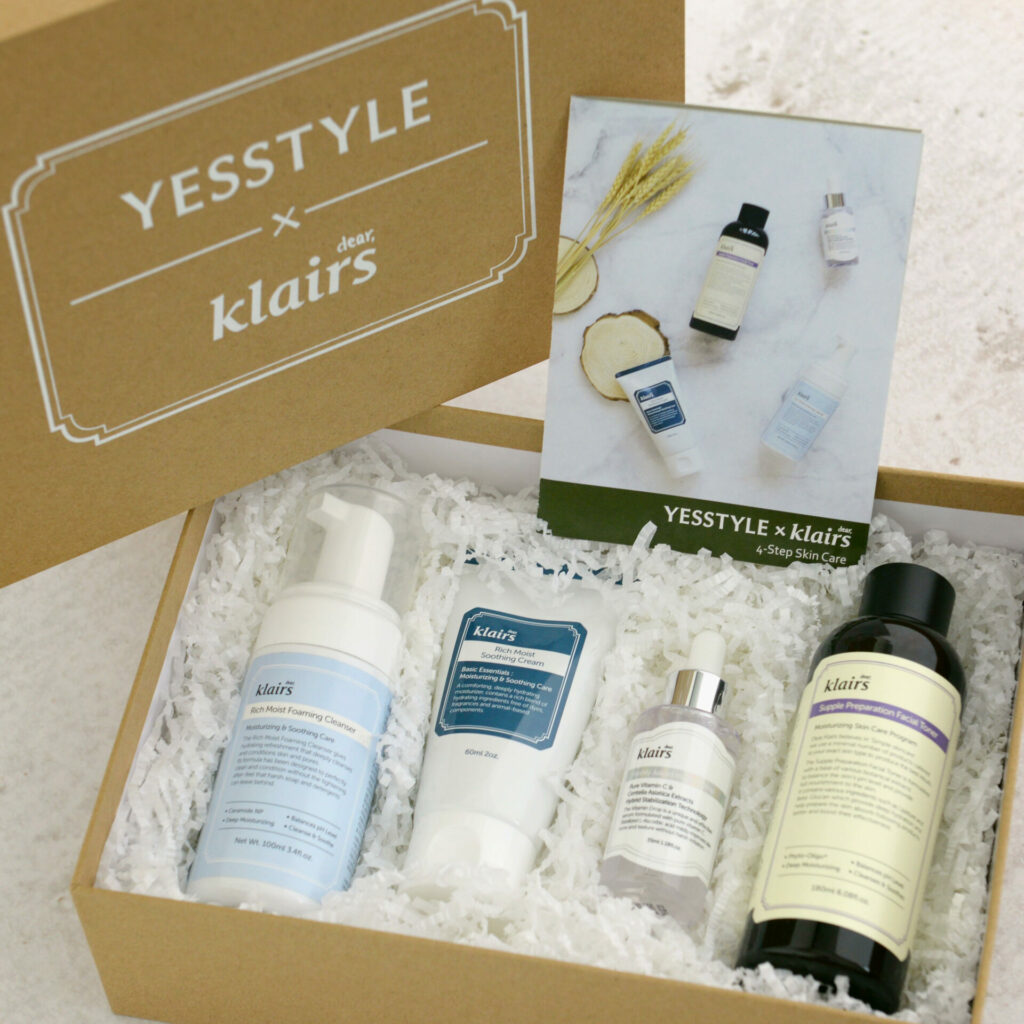 About YesStyle
Founded in 2006, YesStyle has stocked many popular K Beauty products such as Dear, Klairs. YesStyle is the first online retailer in Asia to globally distribute a wide range of beauty and fashion products from the region. YesStyle.com aims to establish a new online standard for beauty and fashion shopping.
The mission of YesStyle is "To provide customers with an exciting shopping experience, superior service and a fine selection of affordable, high quality Asian beauty products, and Asian fashion and lifestyle products."
YesStyle's future business strategies are to continue striving for a perfect customer experience to maintain their competitive edge, to build strategic alliances with premium brands, and to grow and develop our talents to maintain our business success.
Of particular interest, YesStyle has always greatly admired the Dear, Klairs focus on simplicity.
What encourages YesStyle to be an avid fan is not only because of the fact that Dear, Klairs is a 100% "made in Korea" manufacturer, but because their creams are designed for sensitive skin using the simplest ingredients that avoid colorants, alcohol, parabens and artificial fragrances.
[Interview – Mandy Liu]
1) Please introduce yourself and share with us your job at YesStyle
My name is Mandy Liu and I am the Beauty Expert at Yesstyle. My job on a day to day basis is to understand the ingredients in cosmetics and to provide infographics and information to the Marketing team to better understand the products on our website.
2) What do you think is the difference between Klairs and other skincare brands?
YesStyle is a proud Dear, Klairs retailer and has been for many years. Dear, Klairs has a very unique perspective on skincare as it provides its customers with cruelty free, vegan as well as eco-friendly products focusing on sensitive skin which I truly appreciate.
With K-Beauty goods becoming more popular globally, Korean cosmetic products' production and exports in recent years have risen substantially; and YesStyle is proud to be part of that journey alongside Dear, Klairs. YesStyle is, indeed, a proud authorized retailer of Dear, Klairs.
3) What kind of products are popular in YesStyle?
Furthermore, Dear, Klairs does not test its products on animals and is committed to respecting the environment – all of which are integral YesStyle beliefs.
The most popular products in YesStyle are:
– Supple Preparation Facial Toner
4) What is your favorite klairs product?
 My personal favorite Dear, Klairs product is the Fundamental Nourishing Eye Butter as it feels very rich in its texture but it is not greasy at all once applied on the eye (yet still nourishing as it is  formulated with Vitamin A & E).  Furthermore, it doesn't irritate my sensitive skin!
[Interview – Lisa Son]
1) What is your role at Dear, Klairs?
I'm in charge of the Asia Pacific Market Growth Lab of Wishcompany Inc. Our team manages the sales of Dear, Klairs by communicating with our partners in the Asia-Pacific region. As the headquarters of Yesstyle is located in Hong Kong, we communicate with the YesStyle team in Korea and Hong Kong directly to support the marketing and sales of Dear, Klairs on Yesstyle.com.
2) Why did Dear, Klairs decide to partner with YesStyle?

Yesstyle.com is a partner that meets the preferred market conditions for our brand. It has amassed a big global customer pool through active social marketing and influencer marketing. Dear, Klairs as well as other skincare brands distributed by Wishcompany Inc. are sold through Yesstyle.
3) What helped to strengthen your five-year partnership with YesStyle? In order to increase the sales volume of brands, we have been actively participating in programs such as Brand Week at the commerce level and running monthly influencer reviews. Yesstyle also shares the annual plan in advance, so it is easy to prepare and proceed with our projects.
In addition, when launching a new product or planning a promotion, we're able to share information easily with customers living abroad. Therefore, they have faster access to newly-launched products. Currently, Yesstyle accounts for a relatively high proportion of customers in the Asia Pacific market of Dear, Klairs. As with all partners of Dear, Klairs, Yesstyle is a valuable partner who has been with Dear, Klairs for a long time.
4) What would you like to do with YesStyle partners in the future?

Before COVID-19, I was able to meet YesStyle partners face-to-face at least once a year in Hong Kong or Korea. It's unfortunate that we currently can't meet offline, but we schedule video conference calls as often as possible. I hope to invite YesStyle managers to the Dear, Klairs flagship store in Seoul after the pandemic.
——————————————————————————————————————
Dear, Klaris will continue striving to become a brand that listens to the suggestions and concerns of our partners.
All of Dear, Klairs product get over 4.5 stars! Check out various Klairs products at YesStyle <3
>> Connect to YesStyle