Dear, Klairs, 'Freshly Juiced Vitamin C Drop' 2 Million Bottles Sold
– Global bestseller that has been exported to 40 countries since its launch
– Received 14 awards in 6 countries
– Hypoallergenic vitamin serum with 5% pure Vitamin C
– First Korean brand to get vegan certification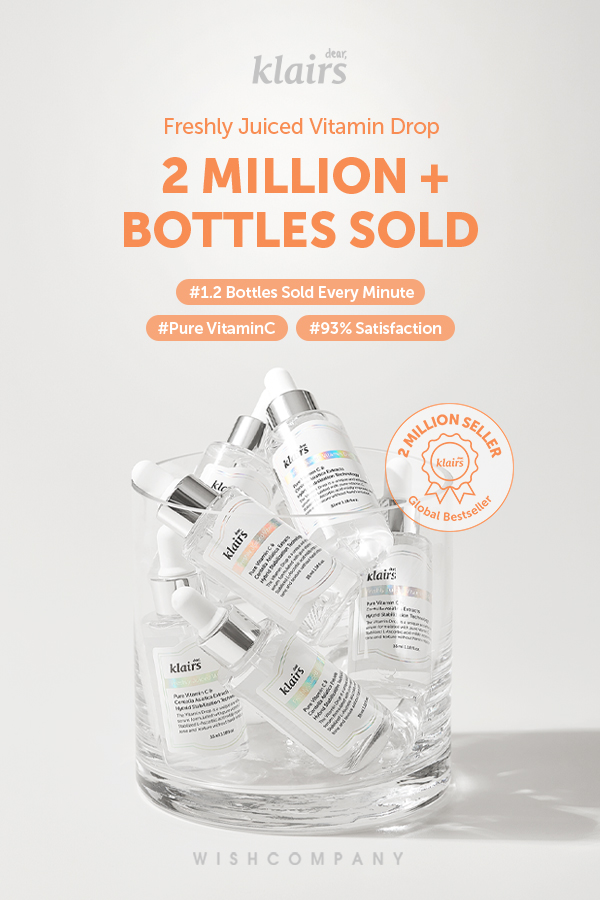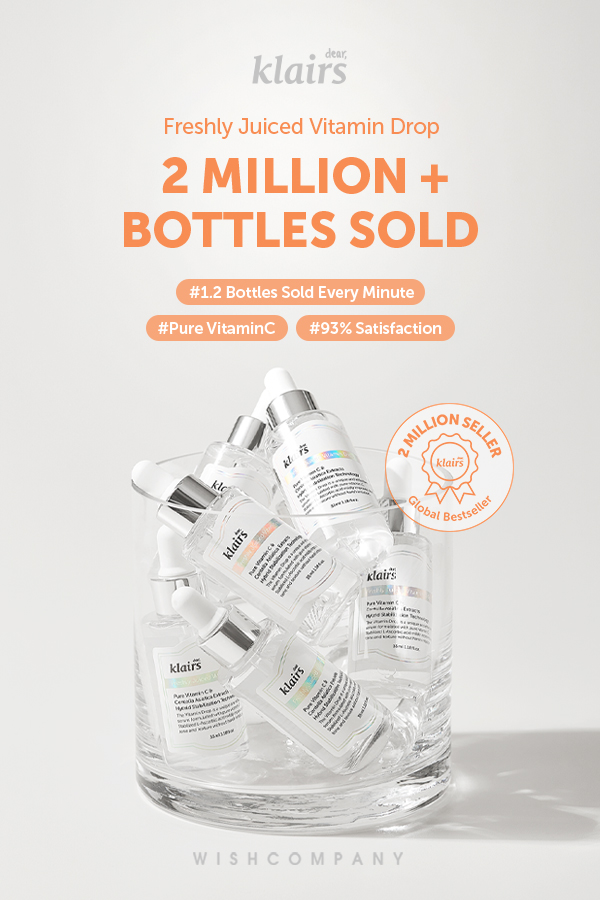 WishCompany (CEO Ryan Sungho Park), beauty brand, commerce, and content company, reported that they sold over 2 million bottles of the Freshly Juiced Vitamin C Drop. It surpassed a million bottles in sales in May last year.
The Freshly Juiced Vitamin C Drop was formulated with stabilized pure Vitamin C to treat dead cells, dull skin tone, and enlarged pores. It can be used by all skin types and recommended for those with sensitive skin. The product has become a global bestseller with over 1.2 units sold every minute.
The product also has a customer satisfaction rating of 93% with over 90,000 reviews on the e-commerce platform Wishtrend.com. It has also won numerous awards across multiple sales channels and media in various countries, including Sokoglam's Best of Beauty Winner and Singapore Shopee's Best Beauty Award.
Klairs is a unique brand with many global, steady selling products. Major distribution channels in more than 40 countries around the world record high repurchase rates. The continued emergence of million best seller products is the result of this pattern.
"Klairs vitamin drop couldn't have been a global bestseller without the love and support from our customers for over 6 years," said Kim So-Hyun, Head of Brand Strategy at Wish Company. "Thanks to this growth, cumulative sales of five Klairs products are each expected to exceed one million units by the end of this year."
In celebration of this achievement, Klairs is offering a 15% discount promotion on the Freshly Juiced Vitamin C Drop from September 16th to October 31st. The first 200 customers who purchase the product will also receive a mini pouch and a set of two mini toners. Furthermore, during the promotion period, Klairs will donate 100% from all Freshly Juiced Vitamin C Drop sales to the Beagle Rescue Association. More details can be found on the Klairs official website.
ㅡ
PR : Wishcompany, Communication Lab (Communication@wishcompany.net)
ㅡ