– The Second Million Seller From Klairs, a Rare Occasion In Which a Korean Indie Brand Keeps Breaking the Records of Million Bottles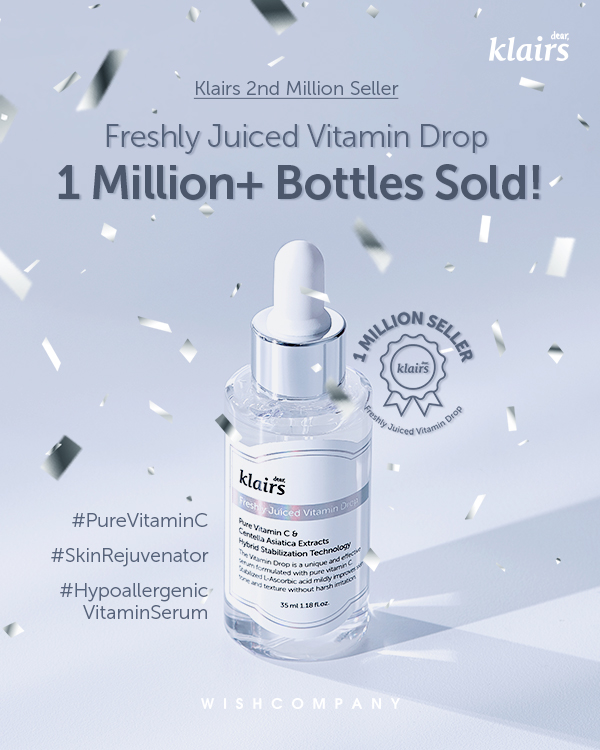 Sensitive skincare brand dear,Klairs just made its second million-seller.
Skincare brand·content·commerce corporation Wishcompany (CEO Soungho Park) announced on the 19th that their own sensitive skincare brand dear,Klairs has sold one million bottles of the brand's low irritation pure vitamin C serum, 'Freshly Juiced Vitamin Drop.'
Klairs is a unique brand in which all of its products are a global bestseller and a steady seller. It records a high rate of repurchase in distribution channels in 40 countries across the world, and that is why it is rare for them to stop the production of any of their products.
The reason why Klairs keeps getting million sellers is a result of such an aspect. Last year, Supple Preparation Facial Toner became a million-seller, and this year, Freshly Juiced Vitamin Drop (henceforth referred to as Vitamin Drop) became a million-seller. It is a rare occasion in which the Korean indie skincare brand keeps making million sellers. Vitamin Drop is a serum with the main ingredient of pure vitamin C, which has powerful brightening and anti-oxidizing properties. Vitamin Drop is a serum with pure vitamin C as its main ingredient and has completed clinical trials for antioxidant effects and primary test for sensitive skin.
It has continuously maintained high popularity, with reviews accumulating that refer to it as a 'pure vitamin C serum that can be comfortably used by' all skin types, including the sensitive type.
The popularity is manifested by the awards the Vitamin Drop has won and customer satisfaction results. Vitamin Drop has 3800 reviews on YesStyle, a massive global online beauty commerce, and the customer satisfaction rate is 96.5%. It has won multiple awards from 13 different distribution channels and media in 6 different countries, Korea, the US, the UK, Japan, Malaysia, and the Philippines. It is ranked #1 on the US' ▲i-Herb Facial Serums, won ▲Soko Glam Best of K-Beauty Award, ranked #1 in Japan's ▲Rakuten Daily Skincare, and ranked #1 in Korea's ▲Chicor Best Awards in the serums department.
Hyejin Son, the leader of Wishcompany's APMG Lab covering the exportation and local marketing of Klairs in the Asia-Pacific region, has stated that "the Vitamin drop from Klairs is sold out in all sales channels in the overseas market. And its production increases every time. Even though it is a pure vitamin c product that is sensitive to heat, its popularity is attested by the fact that it becomes sold out monthly even in the regions with hot climates in Asia".
ㅡ
PR Contact: pr@wishcompany.net
ㅡ
Related News:
[디지틀조선일보]  인디 뷰티 브랜드 '클레어스' 비타민드롭 누적 판매량 100만 병 돌파… 두 번째 밀리언셀러
[장업신문] '클레어스 비타민드롭' 누적 판매량 100만 병 돌파
[보건뉴스] 클레어스 '비타민드롭' 누적 판매량 100만 병 돌파
[로이슈] '클레어스 비타민드롭' 누적 판매량 100만 병 돌파