It's only been a few weeks since the launch of our Midnight Blue Youth Activating Drop, which is currently available for purchase on Wishtrend, but we've received (and are continuing to receive) so much love and excitement for the serum!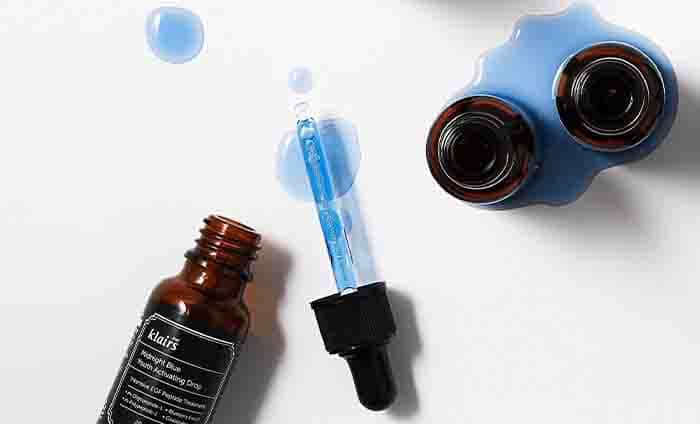 We've explained more about the blue drop's properties by going deeper into its dual-peptide formula, and explaining more about its superstar line-up of ingredients, but you guys still have amazing questions! So, we've made a list of the most frequently asked questions you've sent us.
Before you dive into using this deep blue serum, here are the answers to all the #BlueDrop questions you've been asking.
Q: How long is the shelf life of my blue drop after I open it?
A: The blue drop should be good for about 6 months after opening, and you don't have to worry about it oxidizing or becoming unstable. However, as with all cosmetic products, we recommend you keep the lid tightly screwed on when not in use, and left in a cool/ shaded area so that it doesn't run the risk of turning bad by change in temperature.
Q: When does it come in my skincare routine?
A: The blue drop should always come at the first step of your skincare routine, after cleansing. This is to prevent any other products from possibly interfering with all the goodness of the blue drop from full absorbing into the skin. However, it's important to note the following: If you use toner with a cotton pad to wipe the skin, do so before applying the blue drop. If you apply toner with your hands as you would a serum, apply the blue drop beforehand. It's key that you create as little of a barrier on the skin before using the blue drop.
Q: Do I need to wait a bit before applying other products?
A: Feel free to move right down your skincare routine. Because the blue drop has a light and watery texture that absorbs deep into the skin almost instantly, simply tap in as you would a regular serum, and you're good to go!
Q: Should I use it in the morning or night?
A: While the blue drop can be used both morning and night, we recommend you stick to using it as a night treatment. The skin is most active in regenerating itself everyday from 10 p.m. to 2 a.m., which makes it prime time for the blue drop to work to its maximum effect in replenishing the skin's collagen, repairing damage from UV rays, and replenishing the skin for a more healthy, youthful complexion the next morning.
Q: Can I use it every day?
A: Of course! Incorporating it into your daily routine will make a big difference, and your skin will definitely thank you.
Q: Can I use it after I've exfoliated?
A: The blue drop contains a total of 10 ingredients, all of which are mild on the skin. Of these ingredients is guaiazulene, a common ingredient in all of our blue line products, that acts as a skin soothing and calming agent. Even while the skin is at a sensitive state after exfoliating, you can use the blue drop without worry of any irritation.
Q: Is it OK to use a vitamin/ AHA/ [insert component here] product with it?
A: It's totally okay to use the blue drop with any skincare product you're currently using as it can easily be incorporated into any routine without worry of irritation to the skin – even with acids.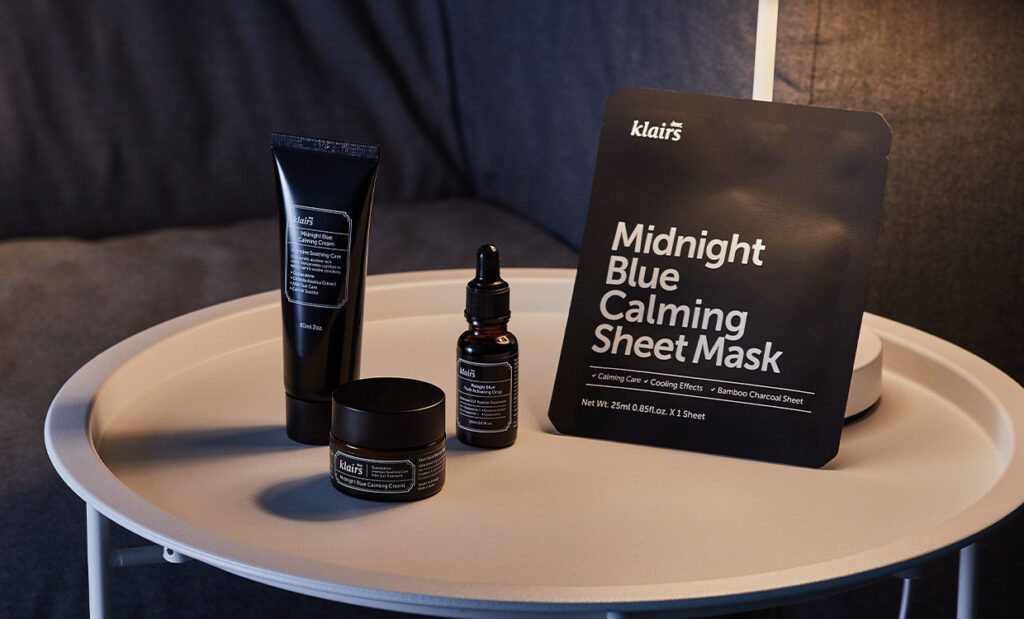 Q: Can I mix my blue drop with other products?
A: While applying a mixture of the blue drop and other products won't cause any adverse reactions to the skin, we recommend you use the blue drop on its own to receive its full benefits. Provide the blue drop a clean canvas to work on.
Q: Do I apply it to my whole face?
A: Skincare is a personal experience and can be adjusted according to your needs. Apply to the whole face, or target areas of concern – such as the forehead, areas around the eyes and mouth, and in between the eyebrows.
Q: How many drops should I apply?
A: A few drops is all it takes for you to start seeing changes in your skin! If needed, apply an extra drop to areas in need of extra care.
Q: How is it different than the Midnight Blue Calming Cream?
A: The blue drop is an anti-aging serum, fortified with a powerful dual-peptide formula. Contrary to the Midnight Blue Calming Cream, which serves the main function of soothing and calming the skin, effects you can expect from the Midnight Blue Youth Activating Drop is improved skin texture, and overall improvement of the appearance of fine lines and wrinkles for a vibrant, more youthful looking complexion.
Q: I don't have any wrinkles, do I still need this?
A: The most important thing when it comes to skincare is prevention. Many times, wrinkles don't come to our attention in the form of deep set wrinkles that we can notice right away. Even if you've just started to notice that your makeup is creasing more around your eye, smile lines, or other areas in comparison to before, this is due to a lack of collagen in the skin, which starts to slowly decrease as you hit your mid-20s. Because the blue drop works to keep this store of collagen stable, it helps to upkeep healthy, youthful skin.
Q: Can I use this if I'm younger than 25/ older than 35?   
A: The dual-peptide formula of the blue drop is formulated with high levels of EGF and bFGF, both great in targeting the deep set wrinkles that those in their 40s, 50s, and even 60s see in their skin, as well as the thinner, surface level fine lines that start to sprinkle the skin in our mid 20s. It's a serum great for both you and your mom!
Q: What skin type is this best for?
A: This can be used on all skin types, even the most sensitive. Whether you're just starting to notice fine lines starting to creep up on your face, or have been worried about deep-set wrinkles for years, this is the serum for you!
We hope that we were able to answer all of your questions, and that you're even more excited to try out our Midnight Blue Youth Activating Drop!