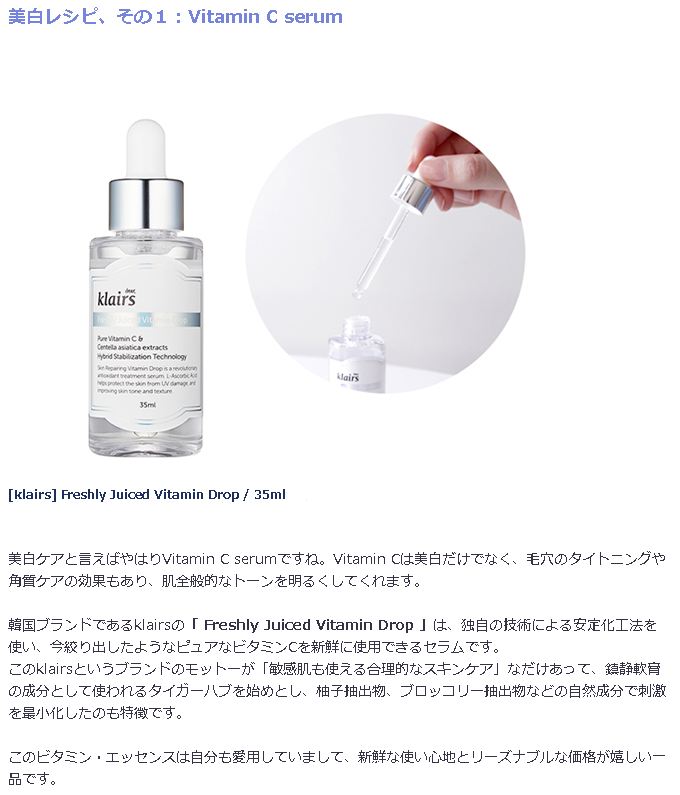 Translation
Title: Korean Women's Latest Secret for Brighter Skin

Korea's Latest Brightening Trend

Secret 1: Vitamin C Serum

Vitamin C serum has unsurprisingly been picked as the main secret for brighter skin. Vitamin C doesn't just whiten the skin, but it also helps to tighten pores and remove dead skin cells to make the skin tone brighter in general.

The Freshly Juiced Vitamin Serum of Korean brand, Klairs, is created through an innovative process that stabilizes the Vitamin C, so that it gives the feeling as if you're using a serum that is made with pure, freshly squeezed vitamins.

As much as Klairs brand motto is "Reasonable skincare for even those with sensitive skin", this serum is special because it is made to be gentle, created with soothing and natural ingredients, like centella, yuzu and broccoli extract.

I also use this Vitamin C serum, and the freshness of the product along with the great price are some of its strong points.
The Klairs Freshly Juiced Vitamin Drop has been featured on Cosme, Japan's largest cosmetic and beauty portal site.
In an article titled "Korean women's latest recipe for whiter skin!", Korean beauty professional Yoonji featured the Klairs Freshly Juiced Vitamin Drop as a must-have for brighter skin.
A beauty trend that started in East Asia, brightening and whitening products have started to gain recognition around the world, which is why the vitamin drop serum has been faring well especially in these areas.
"This is a serum that feels so fresh that it feels as if it has just been 'juiced'," Yoonji said.
The serum is available for global online purchase through Wishtrend.