– A Mild Plant Oil With 85% of the Ingredients From Natural Origin
That Could Be Used Every Day Without Irritation
– A Product With a 'Fresh Light Texture' Consisted of Only Six Ingredients
and Passed Primary Irritation Test for Sensitive Skin Types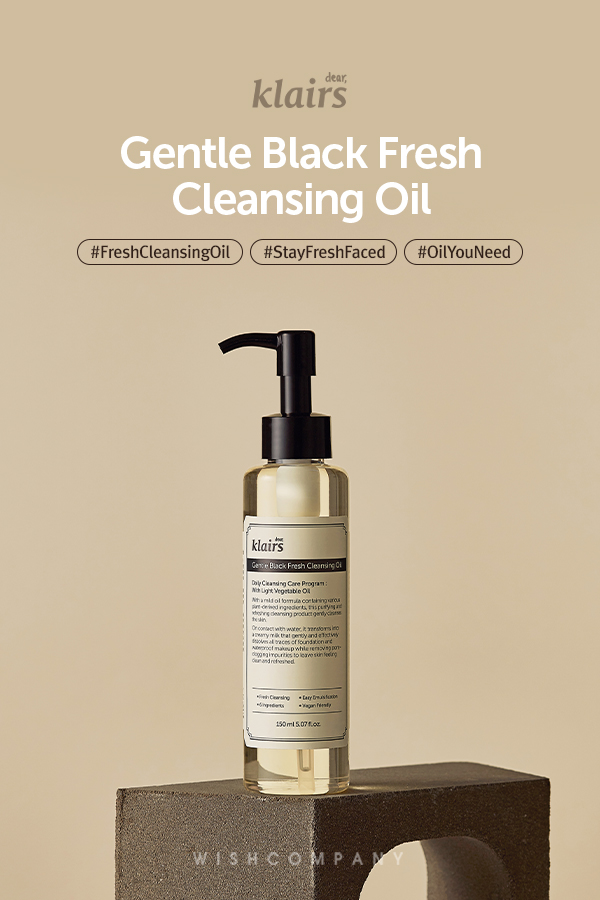 Skincare brand·content·commerce corporation Wishcompany (CEO Soungho Park) announced on the 15th that its sensitive skincare brand Dear, Klairs has launched 'Gentle Black Fresh Cleansing Oil.'
The new product 'Gentle Black Fresh Cleansing Oil' contains a large amount of plant oil extracted from natural ingredients. Using sunflower seed oil that controls sebum and soothes the skin as the main base, the cleansing oil includes plant-based oil with a light texture and great spreadability such as grape seed oil, jojoba oil, blackcurrant seed oil. Plant oil consists of up to 85% of its ingredients that melt the makeup and impurities down without skin irritation.
Consisted of 6 mild ingredients only, 'Gentle Black Fresh Cleansing Oil' shows a light, fresh texture, unlike other cleansing oil products with a heavy thick finish in general.
Especially when 'Gentle Black Fresh Cleansing Oil' contacts with water, it emulsifies quickly and finishes fresh without any residual feeling after cleansing. It is recommended not only for oily skin types who avoided oil cleanser due to its heavy texture but also for all people who want to care for their dead skin cells and use oil cleanser daily.
Furthermore, the product passed the primary irritation test for human bodies and sensitive skin, indicating that it could be used even for sensitive skin types. The product is unscented that could be for those who mind fragrances or essential oil.
Dear, Klairs holds a discount event as a celebration of the new product. You can get a 15% off for purchasing 'Gentle Black Fresh Cleansing Oil' from the Wishtrend.com.
ㅡ
PR Contact: pr@wishcompany.net
ㅡ
Related News
[장업신문] 클레어스, '젠틀 블랙 프레쉬 클렌징 오일' 출시
[코스모닝] 클레어스 젠틀 블랙 프레쉬 클렌징 오일
[머니S] 클레어스, '젠틀 블랙 프레쉬 클렌징 오일' 출시… 식물 유래 성분 85% 함유
[보건뉴스] 클레어스, 저자극 데일리용 '젠틀 블랙 프레쉬 클렌징 오일' 출시
[인사이트] 클레어스, 저자극 데일리용 '젠틀 블랙 프레쉬 클렌징 오일' 출시
[싱글리스트] 클레어스, 가볍고 자극없는 '젠틀 블랙 프레쉬 클렌징오일' 출시
[뷰티한국] [BH 9월 3주차 화장품 신상-③시즌]지금 쓰기 딱 좋은 틈새 공략 아이템
[프라임경제] [주간#신상태그] 헤라·애경산업·버커루·이마트24·GC녹십자·롯데호텔 외