One of the best things about living in this digital age is the feeling of proximity we have to one another, even if divided by an ocean (literally).
Starting late November, Klairs Cosmetics has continued to hold weekly live broadcasts on their Facebook page @klairsglobal, finally coming to their 12th live broadcast.
With special host, Kasper, at Klairs HQ, the broadcasts have become a special meeting point for people all around the world to gather with their unified love and support of Klairs, and genuine interest in learning more about the brand and skincare as a whole.
What can you expect when tuning in?
Every week is a different treat for viewers.
With a one-week-one-product format, viewers can tune in for a closer look at a single Klairs product. Curious for an extra tidbit on the Mochi BB Cushion? Tune in here. Want to learn more about the Freshly Juiced Vitamin Drop? Watch the broadcast again!
Similar to a short, interactive lecture on the product, basic facts are shared about the product to set a strong base for each product. From then on, viewers can expect some of the following exciting sections:
Real customer reviews: Viewers are able to get a better understanding of what the product is like through the eyes of other customers that have tried and tested the product at hand. These unbiased reviews are a window for not only viewers to learn about the products, but for Klairs to get a better understanding of what their products provide for their customers.
Live demonstration: The biggest downfall of buying products online is the inability to be able to test out the product first hand. Through Kasper's live demonstrations of the products, viewers are able to get a closer idea of the texture, scent, color, application, etc. of a product.
Kasper's/ Klairs' tips: A perk of having a host that is knowledgeable about the brand is that they are able to share from their own experiences with the products, give personal tips and tricks, and answer viewer questions from prior knowledge.
Live giveaway: To promote conversation in the comments, which in turn helps for the host to foster a more tailored and information broadcast, 3 viewers that contribute the most helpful comments and questions are selected each week to receive the product in discussion.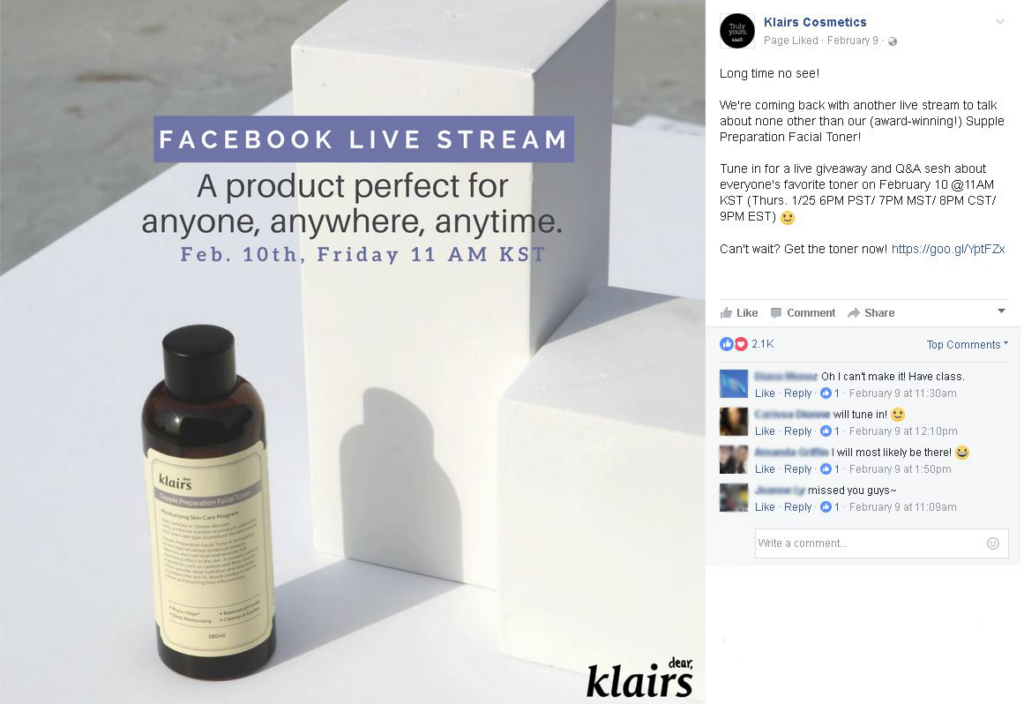 But, the best thing about going live is the exchange between broadcaster and viewer, and even sense of community between viewer and viewer.
With a slow but steadily growing viewer base, the live broadcasts continuously bring in a group of viewers from all over the world united by their interest in Korean beauty, and support for Klairs.
With now an average of about 40 people joining in live for each broadcast, leaving a total of 200+ live comments.
Where and when can you join?
The broadcasts are held on a weekly basis at the Klairs Cosmetics official global Facebook page.
Make sure to follow Klairs on their social media and turn on notifications for further information on the brand, and updates on live broadcast schedules!
Facebook: @klairsglobal
Instagram: @klairs.global