-Skin hydrating green tea in a bottle, 'Daily Skin Hydrating Water', and low pH exfoliating toner 'Daily Skin Softening Water'
-'All seasons daily toners' with a few essential ingredients that hydrate every skin types…now at 10% off launch sale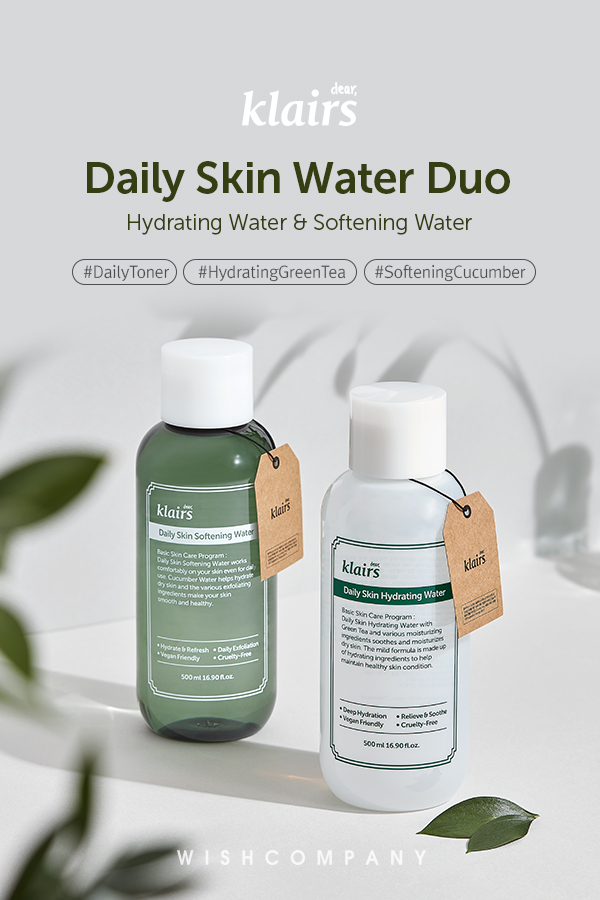 Klairs, the brand behind the 'holy grail toner' that was sold over a million bottles, 'Supple Preparation Facial Toner', launched a new toner line.
dear.klairs, a skincare brand for sensitive skin from the beauty brand·content development company Wishcompany (CEO Soungho Park, www.wishcompany.net announced the release of 2 new big size toners 'Daily Skin Hydrating Water' and 'Daily Skin Softening Water'.
The newly launched 'Daily Skin Water Duo' is the brand's second toner line. The water-like toners are more light and refreshing compared to the previous line, 'Suppe Preparation Facial Toner', and any skin type can use them daily to hydrate their skin with no irritation.
'Daily Skin Hydrating Water' presents in-depth hydration in any seasons, wet or dry. The green tea water with antioxidizing agents that comprises 45% of the toner quickly soothe your skin while delivering the much-needed hydration.
'Daily Skin Softening Water', a low pH exfoliating toner, can clear up dead skin cells and smooth out the skin surface. Instead of purified water, this toner contains 45% of cucumber water and the also contained sugarcane extract, a natural exfoliant, and citric acid, a very mild exfoliating acid, can help with balancing pH level and improving skin texture.
As dear.klairs is a skincare brand for sensitive skin, the newly released 'Daily Skin Water Duo' also contains only a few essential ingredients that are very gentle to the skin. Both of the toners are cruelty-free and vegan-friendly, and also free of other harmful ingredients such as alcohol, sulfate, essential oil, artificial fragrance, and so on.
The 500mL big sized toners can be utilized in various ways. You can use them to prep your skin at the first step of your skincare routine, layer them multiple times to deliver rich hydration, or pair it with 'Klairs Toner Mate 2 in 1 Cotton pad' to make a DIY toner mask. When used as a toner mask, it presents a cooling effect and reduces dryness effectively.
Until the 3rd of November, you can get them with a 10% off launch sale on the brand's official website Wishtrend.com for a week.
ㅡ
PR Contact: pr@wishcompany.net
ㅡ
Related News:
[로이슈] 클레어스, 대용량 토너 '데일리 스킨 워터 듀오' 2종 출시
[코스모닝] 클레어스 데일리 스킨 워터 2종
[보건뉴스] 클레어스, 워터 타입 대용량 토너 '데일리 스킨 워터 듀오' 2종 출시
[인사이트] 클레어스, 새로운 워터 타입의 대용량 토너 '데일리 스킨 워터 듀오' 2종 출시
[머니S] 클레어스, 워터 타입 대용량 토너 '데일리 스킨 워터 듀오' 2종 출시
[FETV] 클레어스, 대용량 토너 '데일리 스킨 워터 듀오' 2종 출시
[뷰티코리아뉴스] 클레어스, 새로운 워터 타입 대용량 토너 2종 출시
[싱글리스트] 클레어스, '스킨 워터 듀오' 출시