-Manage coverage and texture with Daily·Cover-up puffs…Suitable for both dry and oily skin
-SPF 50+ PA+++, a multi-functional compact cushion including UV protection, brightening, and wrinkle improvement effects
-Special promotion on Wishtrend.com to celebrate its launch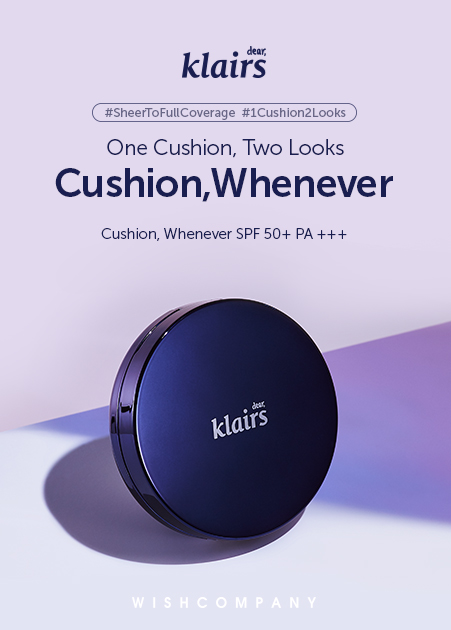 Klairs, a skincare brand from beauty brand·content development company Wishcompany (CEO Soungho Park) has launched 'Cushion, Whenever' on September 10th, a cushion compact with two types of high-end puffs that allows achieving different finishes with one single compact cushion.
The Cushion, Whenever contains two types of puffs and enables you to manage coverage and texture with the applicator. The idea that puffs can hold a large amount of moisture depending on its materials served as an insight to develop two types of puffs that are made of different fabrics.
With the two types of puffs, Cushion, Whenever can be used for the full coverage makeup and touch-ups. Also, it is suitable for both dry and oily skin.
The navy 'Daily Puff' that comes with the product creates the natural and hydrated look as it lands on your skin thinly and evenly. The beige 'Cover-up Puff' is made with more dense material and allows full coverage, which also adheres onto your skin evenly and gives soft matte finish at the same time.
Klairs has been continuously developing functional products for people with sensitive skin, Cushion, Whenever is also a multi-functional compact cushion including UV protection, brightening, and wrinkle improvement effects that has SPF 50+ PA+++, that it is suitable for comfortable use even on sensitive skin. The product is available in 3 shades, which are 21C Rosy, 21N Linen, and 23W Ecru.
To celebrate its launch, Wishtrend.com is having a special promotion on the product. Cushion, Whenever is on sale for 15% off on Wishtrend.com, valid until September 15th(CST).
ㅡ
PR Contact: pr@wishcompany.net
ㅡ
Related News
[머니투데이] [신상품라운지]클레어스, 하이엔드 퍼프 담은 '쿠션 웬에버' 출시
[마켓뉴스] 클레어스, 다양한 피부 표현 위한 하이엔드 퍼프 담은 '쿠션 웬에버' 출시
[아크로팬] 클레어스, '쿠션 웬에버(Cushion, Whenever)' 출시
[로이슈] 클레어스, '쿠션 웬에버(Cushion, Whenever)' 출시
[장업신문] 클레어스, '쿠션 웬에버' 출시
[서울파이낸스] [신상품] 클레어스 '쿠션 웬에버'
[인사이트] 클레어스, 다양한 피부 표현 위해 두 종류의 하이엔드 퍼프 담은 '쿠션 웬에버' 출시
[제니파크] 클레어스, 쿠션 웬에버 출시
[코스모닝] 클레어스, 쿠션 웬에버
[보건뉴스] 클레어스, 두 개의 하이엔드 퍼프 담은 '쿠션 웬에버' 출시
[뷰티한국] [BH 9월 2주차 화장품 신상] 추석 연휴에도 화장품 시계는 돌아갔다. 환절기 겨냥 스킨케어 제품들 출시 '눈길'