We live in a constantly moving world. Everyday – at every hour, minute, second – someone somewhere is on the go. Whether it be everyday activities like going to school, taking care of your children or commuting to work, today's fast-paced society centered on success sometimes makes us feel like we aren't allowed to take time to enjoy other activities.
On the other side of the spectrum, while we don't want to be vain, today's society also places a heavy emphasis on appearance. So, how do the two mesh?
We took to the Wishcompany office, located in the heart of Seoul, to see what the beauty routine of a real working individual is like. Check out the beauty tips below!
On-the-go Mornings Beauty Tips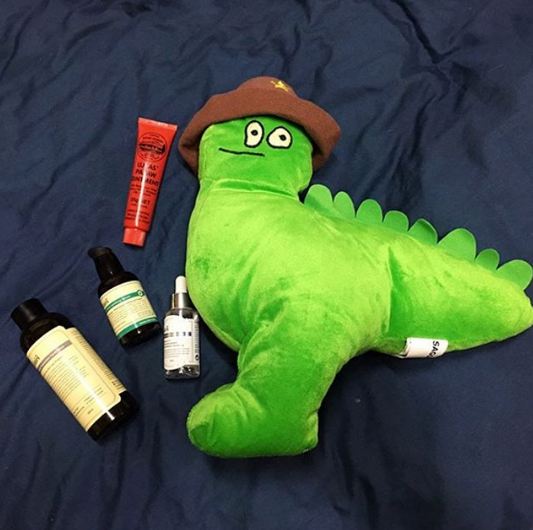 Mornings are always a mixture of scrambling to get breakfast down, catching up on the latest news, and making oneself presentable from a night of (fitful or great) sleep.
But in the country that started a worldwide skincare craze, a different approach is taken on self-care and getting ready for the day. Step into the streets of Seoul, and people with flawless skin surround you left and right. Some might attribute it to genetics, but a lot of it actually falls on the great, almost pain-staking, care that people put into their outer appearance every day.
The perfect morning skin care routine is one that can both cleanse the skin from any sweat and dirt that might have accumulated over the night, while also preparing the skin to take on the upcoming day.
"I prefer matte makeup, so I use makeup primers and bases that have sebum controlling properties," Wishcompany Trade Manager L.S. said. "Because of this, my skin can get dry really easily so I make sure to moisturize well before I start my makeup."
Even for those that don't wear makeup on a day-to-day basis, getting the right skincare down makes or breaks the condition of one's skin for the rest of the day, which is why time is not a factor of concern for certain individuals.
"I apply a Klairs sheet mask and leave it on while I dry my hair. It makes my makeup apply so much better than when I don't take this step." L.S. added. "I also always apply my Klairs toner after cleansing and carry it around with me on business trips when to help my skin adjust to each country's environment."
Similar to L.S., many other Wishtrend employees agreed that the most important thing in the morning is the right skin care for moisture and hydration throughout the day. Female and male employees alike chose the Klairs Supple Preparation Facial Toner as a must-have in one's skincare artillery.
Related: "Why the need for Cotton Pads isn't fluff: 5 days without cotton pads"
Wake-up Make Up Beauty Tips
So, if skin care is the base of a house, then make up can be considered the outer covering. While each house is based on the same foundation, each will have different exteriors.
In makeup, there is a plethora of terms that describe the finish and look of a certain step. For example, base makeup can be dewy, natural, semi-matte, matte, full-coverage, etc., and to get each of these different looks, the techniques will be different. But, like skincare, makeup application also depends on the skin-type of the particular individual.
Related: "The 5 skin types you'll encounter"
"I have dry skin, so fixing my makeup throughout the day can kind of be hard," Wishtrend Staff, J.K, said. This is where the more interesting things come in.
"Using a cotton pad, I take the Klairs Mid-day Blue Sun Lotion to wipe away makeup on areas of the face that needs a touch up!" explained J.K.
"If you have dry skin like me, I recommend you use a wet puff to apply your makeup for a dewy finish. You can also mix your BB cream with a moisturizer, or with a facial oil, in a 2:1 ration for a more hydrating finish."
Nighttime Pick Me Up Beauty Tips
Though looking beautiful for the day is important, it is equally as important to cleanse the skin of impurities that have probably piled on during the day. Whether you're a student, teacher, athlete, office worker (you get the gist), everyone needs to make it a priority to end the day with the right skin care, so that the beauty cycle can start fresh the next morning.
"I wear quite heavy eye-makeup so I always do a first-step cleansing with lip & eye remover," explained M.K., Designer and Assistant Manager.
But, wait a minute. First cleanse?
In Korea, among popular beauty trends like cushion foundations to sheet masking every day, is the notion of "double cleansing" – usually this involved removing makeup with a makeup remover or oil cleanser, and following up with a soap or foaming cleanser.
"I actually then massage the Klairs cleansing oil into my skin, remove it with the charcoal soap, and finish with the Klairs foaming cleanser," continued M.K.
Because makeup can be much more harmful when not removed properly, double cleansing, even triple cleansing, is recommended for those that wear makeup daily. Blocked pores can lead to dull skin, and even eventually lead to the formation of whiteheads and blackheads.
To finally lock in moisture and end the day on a high-note, finding the perfect cream can be a life savior.
"Depending on where my skin needs it most, I end with a good cream. The Midnight Blue Calming Cream is actually really great for my skin and leaves it feeling and looking better the next morning." added M.K.
Shop the article
No matter your gender or age, the right skincare routine can leave you feeling fresh and ready to take on the new day. So check out these beauty tips and hopefully you can include one or two in your routine!
Perfect for the whole family, Klairs strives to continue producing the highest-quality skincare for all. Free of parabens, alcohol, and artificial fragrances, Klairs products continue to be favorites of many around the world.
All products mentioned can be purchased online through Wishtrend.com, and other respective retailers.