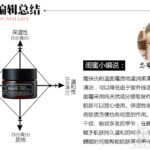 Trans
Xiaobian said:
"Klairs Midnight Blue Calming Cream is soft and supple, with a comfortable feel and cool feeling. It reduces heat caused by ultraviolet rays. It's a cream with ingredients extracted from nature, and is assured to be safe for use on sensitive skin. It's very moisturizing – it improves the skin but also plays a significant part in skincare so that it's convenient as well. Dryness and fine lines are a concern especially during the winter. The time before going to bed can be used to give the skin lasting and gentle care and making the most out of your golden sleep time can help restore the skin back to a beautiful state."
The Midnight Blue Calming Cream was recently featured in an in-depth beauty review on Kimiss, China's largest online community for rating beauty products. The evaluation focused on three main areas: basic product characteristics, moisturizing abilities, and overall effectiveness in improvement of skin.
Upon Kimiss' initial evaluation of the cream, it was praised for its light, cool and comfortable texture that absorbs quickly without any greasy residue. Because of its use of natural soothing agents like guaiazulene, the cream also placed at a mild pH rating between 6 and 7, displaying the "pure, natural high-quality low-stimulation", Kimiss said.
Kimiss also mentioned the product as a must have during the winter for its strong moisturizing properties.
"The skin before using the Midnight Blue Calming Cream had a moisture value of only 31.4%. After using the product, the skin moisture value increased to 56.5% – an instant skin drink."
In further tests, Kimiss shared that the Midnight Blue Calming Cream helped to increase the skin's water content and suppleness by 4 levels, while decreasing oil content by 3, "effectively improv[ing] the skin['s] problem."
The Midnight Blue Calming Cream is available for global purchase online at Wishtrend.com, or through any of their worldwide partners.