If you've been a long-time Klairs fan, it's no surprise that the brand has been making worldwide appearances in the hands of influencers, magazines, videos, articles and more with the constant support the brand has been receiving. But what about in Korea?
This small-but-growing Seoul-based brand is now branching out of Seoul, to reach the homes of families all across Korea. Most notably, the toner and BB cream have been lauded in Korea for their many positive reviews through social media and top online portal sites such as Naver. However, a new star is rising: the Rich Moist Soothing Serum.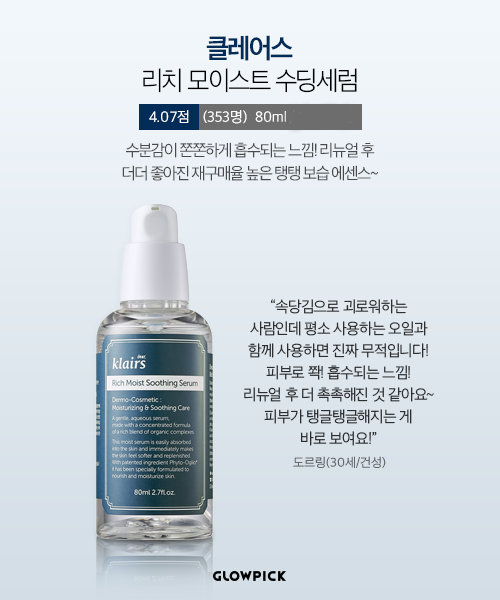 While popular for its simple, moisturizing formula, the serum is experiencing increased growth following its recent renewal and has been climbing the ranks in popular Korean consumer-based cosmetic review application, Glowpick. Known as one of the most popular and credible platforms for sharing beauty product reviews, it has now become a must-check source before making any purchases.
In an Oct. 19 post, Glowpick shared their list of the "Top 6 most repurchased skincare products with high satisfaction rates", which was featured on Naver, Korea's No. 1 portal site. In it, the Klairs Rich Moist Soothing Serum made an appearance.
"When you're looking for a serum or essence that has an accessible price point with effective results that's a bang for your buck? Klairs Rich Moist Soothing Serum! It gets rid of tight, dryness while being gentle on the skin!"
Perfect for all skin types, the serum continues to receive high satisfactory ratings on Glowpick. With over 400 reviews and a 4.07 rating out of 5, it currently stands as the 17th best serum in a list of 1000+ serums from various brands.
"I struggle a lot because my face always has a tight dryness, but using this serum with an oil that I usually use is definitely invincible! It feels like it's being absorbed right into the skin! I think it got more hydrating after its renewal~ I can see right away that my skin has gotten more plump!" – 드** (30/ Dry Skin)
The serum is available for purchase on wishtrend.com, and through any of Klairs official global retailers.