While many new beauty products on the market have recently been changing up their formulas and packaging to create more eye-catching products, Klairs proves time and time again that simple is best.
Since its recent release in May 2016, the Midnight Blue Calming Cream has been receiving much interest from the public for not only its unique color but also it's powerful formula.
What makes the Midnight Blue Cream different from other creams?
https://www.youtube.com/watch?v=qE9__VU8bts
The concept of a blue cream was a point of intrigue for many and in its initial stages, the cream received more attention for its outer appearance. However, when time for the actual test came, the Midnight Blue Cream proved the saying "never judge a book by its cover" to be wrong.
Created with individually selected, natural ingredients, the cream boasted a line-up of several beneficial plant-based components to effectively treat the skin.
The main star was Guaiazulene, a plant-based component extracted from Chamomile oil, which played a key role in calming down any redness and irritation. It's natural properties help heal and act as a natural dye to the cream with its naturally violet color.
While people were initially drawn to the unique appearance of the cream, the Midnight Blue Calming Cream truly proved itself upon use.
Customers appreciate the effective, versatile formula
Formulated to be used as a spot treatment rather than an everyday cream, the Midnight Blue Calming Cream lived up to its name as a calming cream. The formula helped customers – men and women, old and young – with cases of sunburns and redness and also helped to soothe the skin after shaving or acne treatment.

Comments flooded in from users regarding the positive effects they saw after using the cream:
"My skin was sensitive and painful because of my sunburn but interesting enough, the irritation went down after using the cream. I've been using it for three days and the redness is almost gone!" – user 송**

"This is really a great product. I use this before I sleep and all the small scars from shaving feel soothed when I wake up." – user 이**

"This is a great product for summer because the redness on my face goes away when I use this cream. It's not oily and it absorbs well. I like the lemon grass scent as well." – user 삐***

"When I apply this right after extracting a pimple, I can see that there's less scarring and my pigmentation gets better! I recommend that you use this product before you sleep!" – user 김**
Continued interest in the Midnight Blue Calming Cream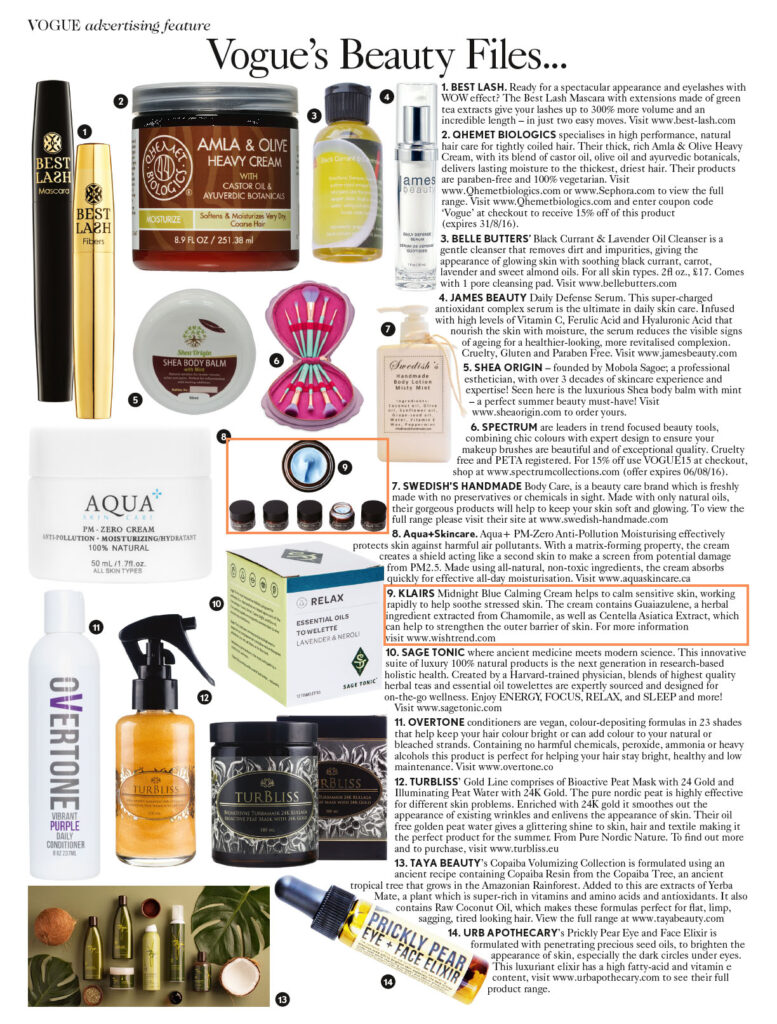 It quickly made it's way to be featured on many videos and blog posts from influential beauty YouTubers and bloggers and in prominent publications around the world.
Vogue UK featured the cream in their "Vogue's Beauty Files" selection and included the blue cream in their list of must-try beauty discoveries for its unique formula that continues to catch the attention of many.
As the cream continued to garner interest around the web and through word of mouth, it caught the eyes of big names like Sephora, who currently expresses interest in carrying the cream along with other Klairs products in their United States locations.
The Midnight Blue Calming Cream continues to be at the center of attention with many Klairs customers as it is non-oily and can take on the burden of various skin irritation 365 days a year.
Those interested in the cream can purchase through Klairs Korea or Wishtrend, the e-commerce source of Wishcompany, who produces Klairs.