– Contains 63.7% of Jeju Green Tea Water and Panthenol With Long-Lasting Moisturizing Effect… Moisturizing Care That Starts and Ends With One Single Cream.
– Light Water Gel Type Texture That Fits Perfectly to Oily and Dehydrated Skin in Summer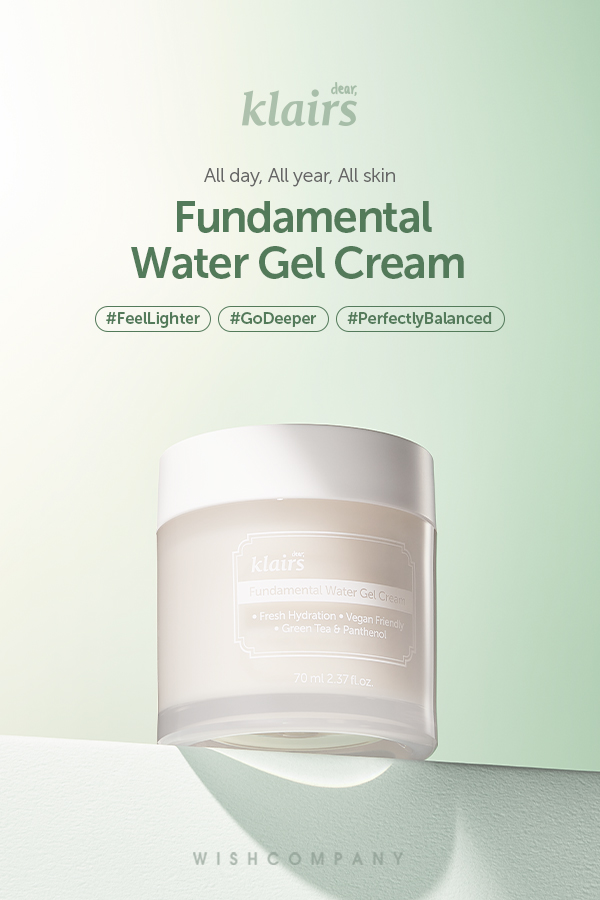 Skincare brand·content·commerce corporation Wishcompany (CEO Soungho Park) announced on the 18th that own sensitive skincare brand dear,Klairs has launched 'Fundamental Water Gel Cream'.
Klairs' fundamental line focuses on delivering the moistures deep into the skin, which is the basics of skincare. Rather than a traditional way of providing a product line that follows rigid steps to apply the products, the fundamental line allows people to do "self skincare" and "skip care" by choosing their own steps and routines to apply them according to their skin types and needs. The line has daily care products with great textures and wearability that surpasses the average expectation from basic skincare products. Also, the products are mild enough to be universally used for anyone who wants hydration regardless of skin types, seasons, day or night.
The new product, 'Fundamental Water Gel Cream', is also a product that follows the basics of skincare to moisturize and hydrate the skin by using only one single cream. The goal was to make a product with a light texture like a moisture cream but keeps the moist tightly and deeply to the skin.
For those skin types that need hydration without an oily finish, the product minimized oil-based ingredients and an increased amount of the water-based moisturizing ingredients. The product has a gel-typed texture that consists of 63.7% of Jeju green tea water well known for its antioxidizing effect and panthenol for deep hydration. The cream quickly gets absorbed into the skin without a sticky finish, allowing the oily and dehydrated skin types who need deep skin hydration to use it without trouble.
It is also noticeable that they applied the Hydra Emulsification System to the skin-friendly ingredients to process the active ingredients to become more absorbable to the skin. It fills the moistures within the skin and forms a protective moisture layer to maintain healthy skin. The product went through a primary skin irritation test, proving that it could be used to sensitive skin types as well.
Klairs Fundamental Water Gel Cream is now available on Wishtrend.com with 10% off.
ㅡ
PR Contact: pr@wishcompany.net