– "Rich Moist Soothing Cream" and "Freshly Juiced Vitamin E Mask" of Dear, Klairs
– Adding two more million seller products following 3 million bottles sold vitamin drop and 2 million bottles sold facial toner
– Hypoallergenic product line for all skin types, including sensitive skin…achieved its record by boosting repurchase as essential products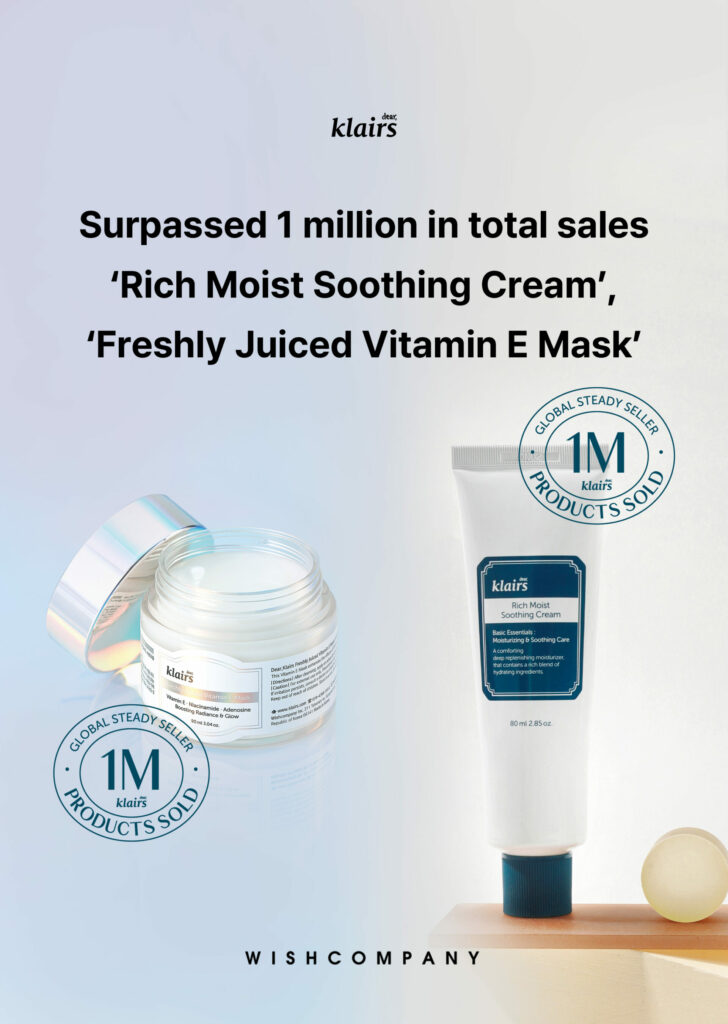 Wishcompany (CEO Park Soungho), a global beauty content company, announced that two products of its skincare brand "Dear, Klairs" achieved 1 million bottle sales records on the 16th. The brand added new million seller products to its line-up following 3 million bottles sold "Freshly Juiced Vitamin Drop" and 2 million bottles sold "Supple Preparation Facial Toner."
The two additional million sellers are "Rich Moist Soothing Cream" and "Freshly Juiced Vitamin E Mask (hereafter, Vitamin E Mask)." "Rich Moist Soothing Cream" is a daily moisturizing cream that can be used regardless of the season, and it has a mild but strong moisturizing effect without irritation. "Vitamin E Mask" is a steady seller following the famous 3 million bottles sold "Freshly Juiced Vitamin Drop." It has double functions of brightening and wrinkle improvement, completing the cosmetic testing on humans for skin transparency improvement and moisturizing effect. Adding these two products to the line-up, now Dear, Klairs owns eight million-selling products.
Products of Dear, Klairs are sold in 60 countries worldwide, and the brand has been recognized as a world-renowned K-beauty brand beyond the domestic market. Dear, Klairs was naturally recognized by consumers through the Wishcompany channel with 5.5 million subscribers worldwide. Dear, Klairs is a global skincare brand that began its journey in 2010 in Seoul.It presents skincare products that only use vegan formulas and have been certified by the international animal rights organization PETA.
Under the slogan "Simple but enough," based on the company's philosophy to "Focus on products that are essential, not trends," Dear, Klairs contends for victory with the strategy of lining up products that consumers would use until they run out and products they would repurchase. In addition, its line-up consists of hypoallergenic products for all skin types, including sensitive skin, and uses only eco-friendly packaging, recyclable shipping packages, and paper tapes for eco-friendly practices.
Park Soungho, CEO of Wishcompany, said, "With the love and support of our consumers, we now have eight million-selling products." He added, "We will continue to present products that not only help improve the skin but also consider the sustainable environment."
To commemorate this million-seller achievement, Dear, Klairs is offering a 20% discount on its soothing cream and free shipping promotions from the 17th to the 30th of this month.