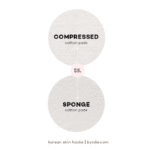 The Klairs Toner Mate 2-in-1 Cotton Pads were featured in a post by Byrdie.com, a US online fashion, beauty and lifestyle magazine.
In her article titled, "The genius ways Korean girls use cotton pads", editor Hallie Gould shared that the use of cotton pads in their skincare routines are the ultimate beauty secret of Korean women.
She spoke with Charlotte Cho, co-founder of Soko Glam and certified esthetician, to share that the Klairs Toner Mate cotton pads are "the best Korean cotton pads on the market."
"I can honestly say these pads have changed my skincare routine." Gould said. "They deposit product on your skin without soaking any of it up or wasting a single drop."
The cotton pads are available for worldwide purchase at Wishtrend.com, or through any one of Klairs' global retailers.