Vitamin C products with brightening and antioxidant properties, Which one should I choose?
Q.> I have been interested in products with skin brightening effects since the blemishes started to appear on my face these days. I've heard that the ingredient 'vitamin C' has a brightening effect; however, there are so many products in the market that makes it hard to choose the right one. Please tell me which vitamin C product I need to choose.
A.> Vitamin C is the key ingredient of the products with the brightening effects that helps improve blemishes. When taking care of the skin blemishes, it's important to reduce the melanin pigmentation. The key point is to prevent melanin pigmentation and prevent the pigmentations that have already been produced from developing into the blemishes. So, this is the ingredient 'Vitamin C' that does double duty.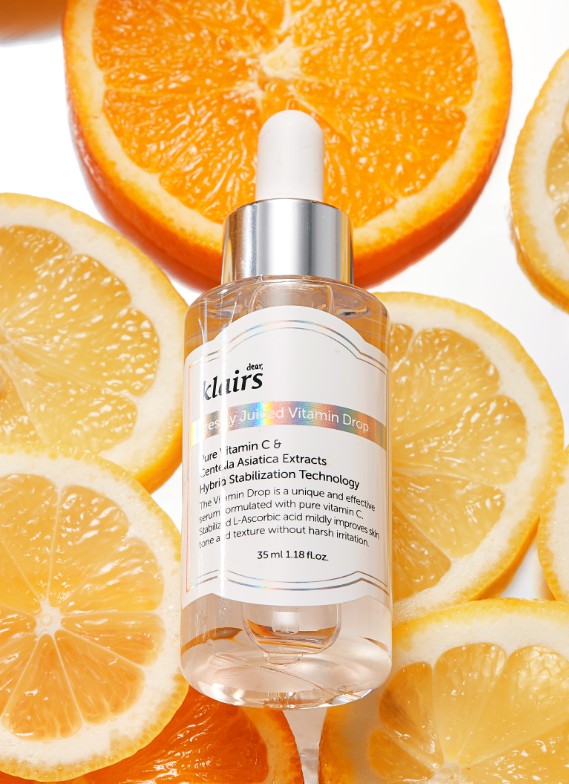 Pure Vitamin C
Often what we call 'the pure vitamin C' is referred to as an ingredient labeled as 'Ascorbic Acid' or 'L-Ascorbic Acid.' It has the characteristic of the potent brightening and antioxidant effects. The downside of it is that it is vulnerable to the heat, UV rays, and has poor stability. Vitamin C is the most absorbable when the pH level is around 3.5, which might give a skin irritation, such as tingling and burning, when applied.
The high concentration of vitamin C does not always mean that it gives you the effects. Please note that if the pure vitamin C (Ascorbic Acid) is formulated over 20%, the skin irritation may become harsh with poor absorption! It is recommended to choose a product with a concentration of 15~20%. Vitamin C synergizes when used with 'vitamin E'(Tocopherol)! Vitamin E helps vitamin C for better absorption and increase its efficacy. It also helps to prevent vitamin C from oxidizing and helps to stay stabilized.
Klairs Freshly Juiced Vitamin Drop is available on Wishtrend.com