https://www.youtube.com/watch?v=_h09OZNac_I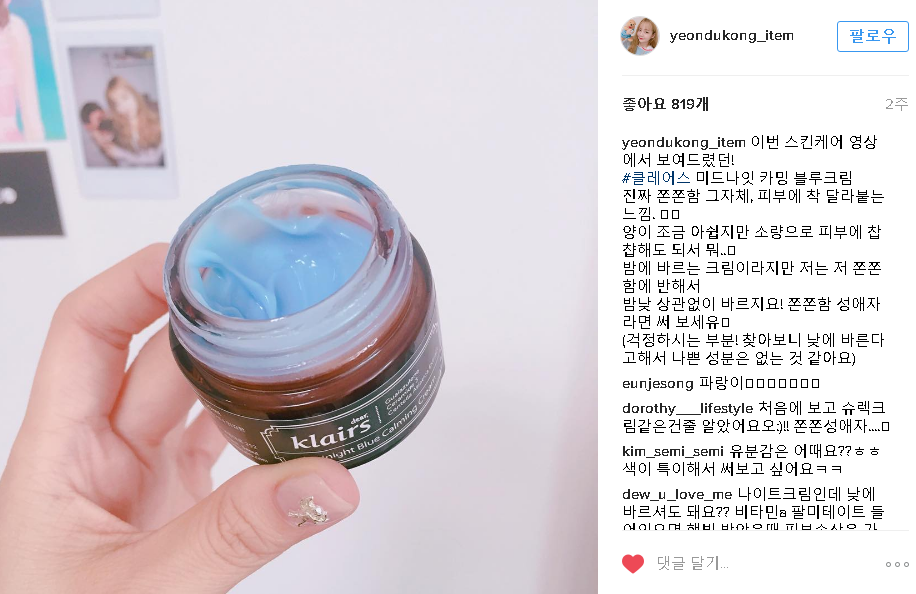 This is the #Klairs Midnight Blue Calming Cream that I showed you in my previous skin care video! The texture is very elastic and bouncy so it feels like it's being absorbed right into the skin. I do wish it was bigger but it doesn't really matter because all you need is a little. It says it's a cream that you apply at night, but I love the feeling of its application so I use it every morning and night! You have to try this cream if you like this kind of texture (One thing some of you might worry about! I looked it up and it doesn't contain any ingredients that make it bad for the morning)
Popular Korean YouTuber, Yeondukong (연두콩) , has repeatedly mentioned the Midnight Blue Calming Cream in her videos and social media posts.
With over 400K subscribers on YouTube, she is one of the most successful and trusted beauty YouTubers in Korea.
First featured in her skin care routine and finally on her Instagram account @yeondukong_item, in which she shares her favorite items, many people in Korea were also newly exposed to Klairs and the interest in the brand grew.
The Midnight Blue Calming Cream continues to be one of the best-sellers, and can be purchased in Korea though their Korean homepage or internationally through Wishtrend.