Klairs has held a large-scale event with Watsons to meet local customers, influencers, and media in Manila, Philippines.
The event was hosted by SM Makati, one of the largest shopping malls in the central Manila, with the theme of Glowing Holiday introducing skincare tips and brand by Wishcompany's global YouTube channel Wishtrend TV which has about 850,000 subscribers worldwide, including the Philippines.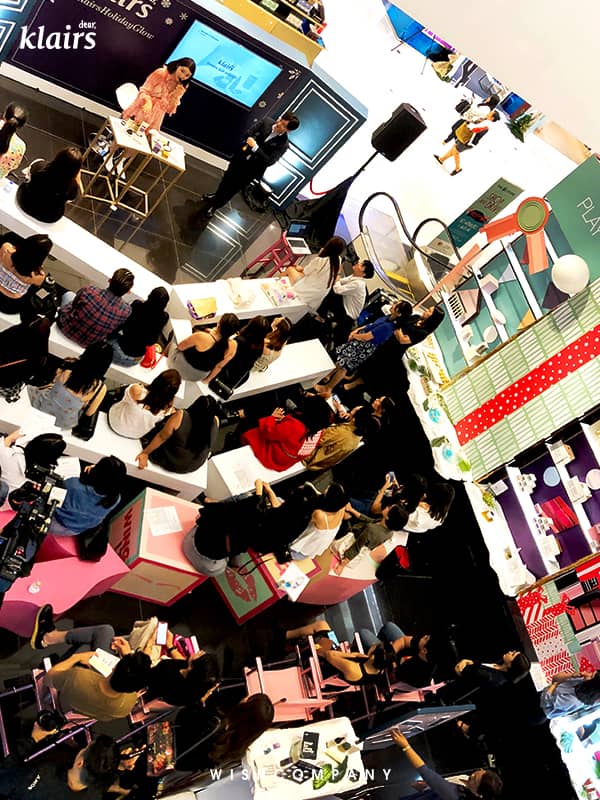 Customers had filled the event site and were inquisitive to learn more about the brand until the end of the event. And even after the event, the pop-up store at the venue was crowded with customers which gave a sense of local interest in Klairs.
Klairs has entered the Philippines back in 2016 and now is rapidly growing as a representative brand of K-beauty by overseas beauty contents and localization marketing strategies of Wishtrend TV. Wishcompany has achieved remarkable results in a very short period of time, offered space in 55 stores in Watsons which is one of the major H&B beauty shopping channels, and 17 stores of premium beauty select shop, Beauty Bar.
For the best-selling products, the Freshly Juiced Vitamin Drop which has the highest sales both at home and abroad. And Supple Preparation Facial Toner ranked as the winner of the 2017 award by the Philippines No.1 beauty commerce channel, Beauty MNL. In addition, most of the Klairs products, including the Gentle Black Deep Cleansing Oil, Midnight Blue Youth Activating Drop, and Rich Moist Soothing Serum were named on '2018 Best of Beauty' and '2018 Customer's Pick' of Beauty MNL to prove its popularity in the Philippine market.
Son Hye-Jin, the manager of overseas sales and marketing at Klairs said "Klairs is a brand that has formed up to overseas fandom, and it is very popular in Southeast Asia where they have a strong interest in K-Beauty. And we will continue to strengthen our position as a leading brand of K-beauty by releasing and introducing more Klairs products in Malaysia, Singapore, and Indonesia, which steadily performing well with the Philippines market."