Introducing Klairs Season 1 Ambassador Jenny…

Hi! I'm Jenny!
From 9-5 I work as a web developer, and from 5-9 you'll probably find me cuddling with my cats with a sheet mask on my face while I binge watch Chinese dramas.
My journey with Klairs
I'm originally from Taipei, Taiwan, a city with amazing street food, friendly folks, and access to the all the latest and greatest in Asian beauty products. As a result, Asian beauty brands were the first ones I tried and hold a dear place in my heart.
I've always been interested in skincare (thank you mom for planting that seed!), but I didn't get into K-beauty until after college, at which point I was already living in the US. Immediately I was amazed at the wide range of products K-beauty brands carried, and at such great prices too. I've been lamenting over the lack of access to affordable + effective Asian beauty products in the US, so this discovery was like Christmas morning for me!
One of the first K-beauty shopping site I discovered was Wishtrend, and immediately I was drawn to Klairs' products. Call it fate, call it love at first sight, but despite the lack of English reviews at the time I decided to take the plunge and order a set of Klairs products, which included:
– the Supple Preparation Facial Toner
– the Gentle Black Sugar Facial Polish
– the Rich Moist Soothing Toner
– the Rich Moist Soothing Cream
– the Rich Moist Soothing Mask
And I enjoyed using every single one of them. In my many years of trying out different skincare products, I've never consistently loved products from a single brand the way I did Klairs. So you see, it pays to be impulsive every now and then, and to trust your guts. The female intuition can be freakishly accurate!
A proud ambassador because…
I love their concept of simplicity, that quality is more important than quantity, something I resonate more with the older I get. Rather than churning out a million products like lots of other brands, I appreciate how Klairs focuses on creating just a few effective + well formulated products at reasonable prices. Also, as a cat mommy I have extra love for brands that are cruelty-free!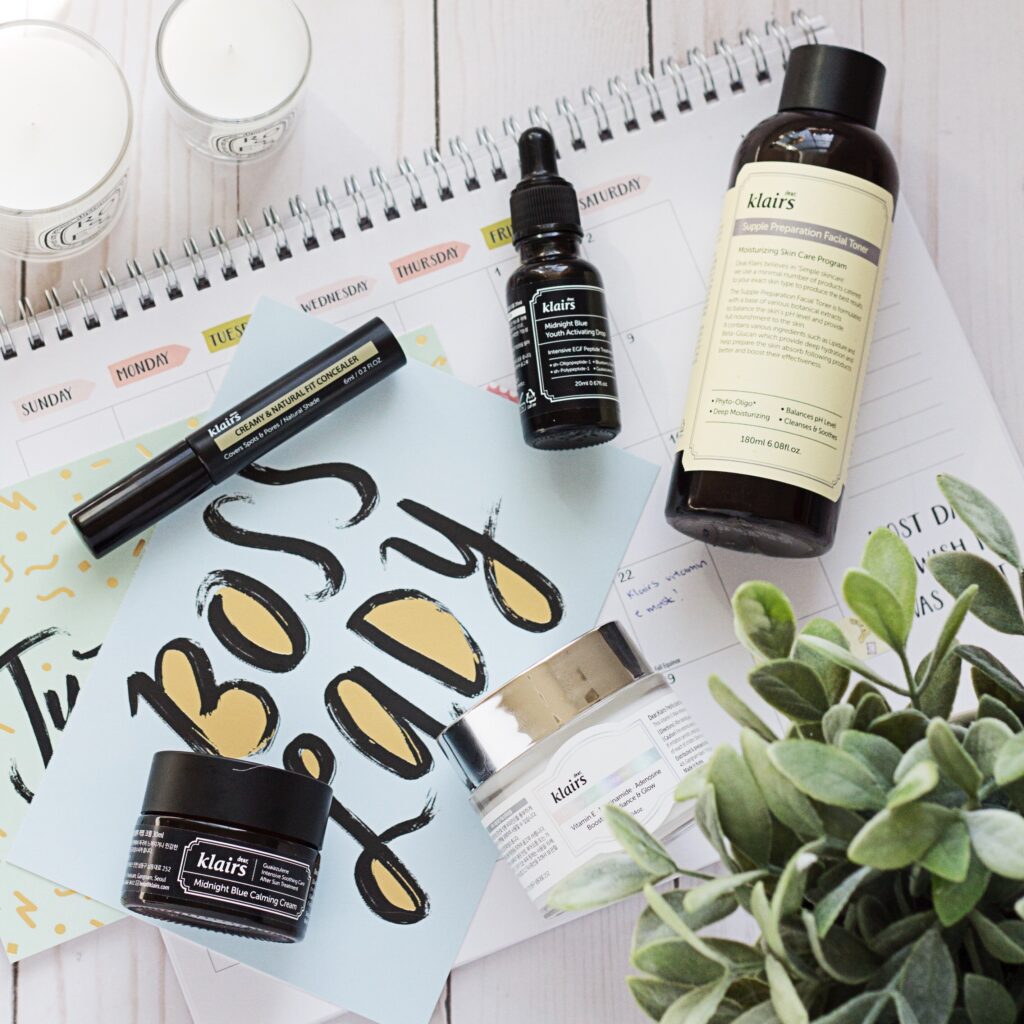 Shop my Top Picks!
Supple Preparation Facial Toner 
My favorite hydrating toner, hands down. It's so gentle on the skin, and hydrates without feeling heavy or sticky. It's very versatile too, sometimes I use it alone as a toner, sometimes as a mask by soaking up cotton pads, or mixed with a few drops of facial oil to create a rich emulsion.
Midnight Blue Youth Activating Drops
I love how simple the ingredient list is – no fillers, just great anti-aging elements like EGF, which can be really expensive in other products! Also as someone with combination skin, I can't appreciate it's water-like texture enough, it makes layering this in any routine so effortless.
A must have for when my skin is irritated, sensitive, and/or red. It feels like a lightweight cream that instantly absorbs into your skin and leaves your skin feeling soothed and less red. Of all the skin-calming products I've tried, this is one of the best all around, and you can always layer another cream/sleeping mask/face oil on top of you need the extra moisture!
If you want to wake up with glowing skin (and who doesn't??), you need this mask. It has this super fun jello-like texture that melts into an essence-like liquid once you massage it in. It keeps my skin hydrated all night, and goodness my skin looks good when I wake up!
Follow me on Social Media:
Instagram @geekyposhe
Facebook @geekyposh
Twitter @geekyposhe
Introducing Jenny a.k.a GeekyPosh